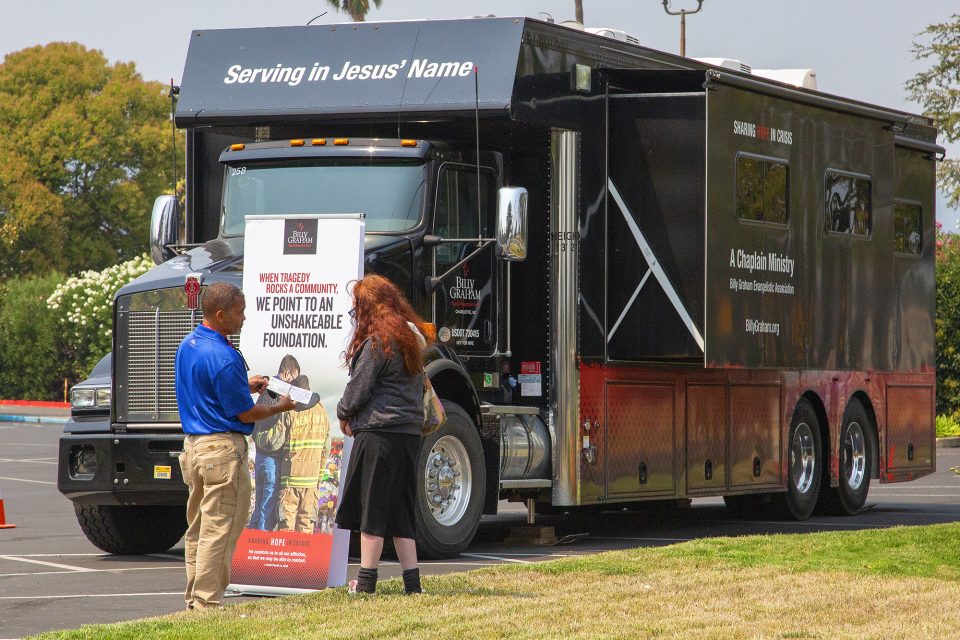 CHARLOTTE, N.C., Aug. 25, 2020 – As wildfires continue to rage in California, the Billy Graham Rapid Response Team (RRT) will send a team of crisis-trained chaplains—along with its Mobile Ministry Center—to Napa, California, to provide emotional and spiritual care to one of the hardest hit areas in the state.
Only 27 percent contained as of Tuesday, the LNU complex fire has burned more than 350,000 acres in five counties, already making it the second-largest fire in state history. More than 500 structures have been destroyed and the fire has resulted in three fatalities.
"We are saddened for all of those who have lost loved ones and property as we continue to see the devastation from numerous fires in California," said Josh Holland, assistant director of the RRT. "We have crisis-trained chaplains—some of whom have a background as firefighters—who will be on the ground to visit with those who are struggling with another crisis during this already difficult year."
Tuesday's deployment is the fourth active deployment for the RRT, as chaplains are also serving in Charlotte at the Republican National Convention, as well as in Iowa with chaplains in Cedar Rapids and Tama County after the rare derecho storm. The RRT also continues to monitor the tropical storms in the Gulf of Mexico with chaplains on standby ready to deploy if necessary.
For more information on the ministry, including videos, photos, news articles and an interactive map of former and current deployments, visit BillyGraham.org/RRT. Updates can also be found at Facebook.com/RRTChaplains.
About the Billy Graham Rapid Response Team:
The Billy Graham Rapid Response Team was developed by Franklin Graham and the Billy Graham Evangelistic Association following the attacks of Sept. 11, 2001. It has since grown into an international network of chaplains in the U.S., U.K., Canada and Australia who are specifically trained to deal with crisis situations. They have deployed to more than 450 disaster sites across the globe, including shootings, floods, hurricanes, wildfires and tornadoes.
– 30 –