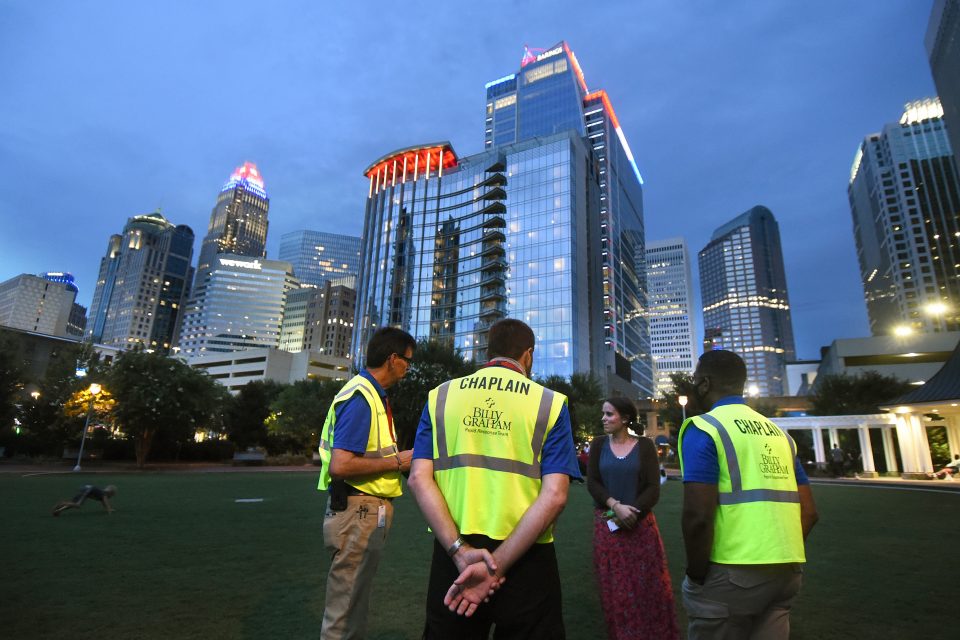 CHARLOTTE, N.C., Aug. 24, 2020 – With the Republican National Convention taking place in Charlotte this week, the Billy Graham Rapid Response Team (RRT) is sending crisis-trained chaplains into its own community to provide a ministry of presence during protests surrounding the event.
"Our desire for our home city is to share the light and hope and the glorious Gospel of Jesus Christ," said Kevin Williams, RRT's emergency response logistics manager, who will lead the team of chaplains. "As always, for us there's no partiality. Everyone that will be on the streets will receive the same love of the Lord."
Multiple arrests were made in Charlotte on Sunday on the third day of protests leading up to the convention.
"Charlotte is our home city, and we feel the burden to bring hope to our neighbors and those who have arrived in town for the convention, whatever their purpose in coming. This is an opportunity to have a presence on the streets for whomever," said Josh Holland, assistant director of the RRT. "There are a lot of different opinions or trains of thought. Our message is what it always is: God loves you."
This week will be the fourth deployment to civil unrest for the RRT in 2020, having sent crisis-trained chaplains to Minneapolis, Minnesota, Charlotte and Greensboro, in June. RRT chaplains also served at the Pray on MLK event at Romare Bearden Park in uptown Charlotte on Aug. 9, where a two-hour prayer and praise event was organized for people to pray at every Martin Luther King street in the United States at the same time.
For more information on the ministry, including videos, photos, news articles and an interactive map of former and current deployments, visit BillyGraham.org/RRT. Updates can also be found at Facebook.com/RRTChaplains.
About the Billy Graham Rapid Response Team:
The Billy Graham Rapid Response Team was developed by Franklin Graham and the Billy Graham Evangelistic Association following the attacks of Sept. 11, 2001. It has since grown into an international network of chaplains in the U.S., U.K., Canada and Australia who are specifically trained to deal with crisis situations. They have deployed to more than 450 disaster sites across the globe, including shootings, floods, hurricanes, wildfires and tornadoes.
– 30 –