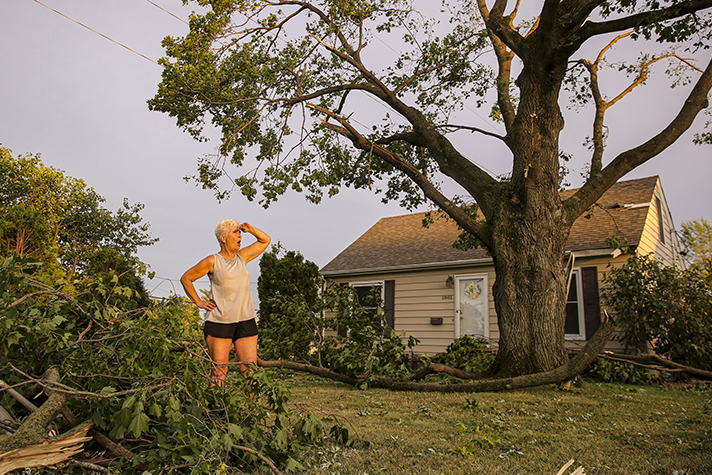 CHARLOTTE, N.C., Aug. 12, 2020 – The Billy Graham Rapid Response Team (RRT) is deploying chaplains alongside Samaritan's Purse to Cedar Rapids, Iowa, to provide emotional and spiritual care after a powerful derecho storm devastated the area with winds nearing 100 mph.
More than 1 million people lost power as the storm reportedly traveled more than 700 miles across multiple states. At least one person died and homes and businesses suffered major damage from the straight-line winds.
"We are extremely saddened anytime there is a loss of life and our thoughts and prayers go out to the many people who were impacted by the strong storms that moved through the Midwest, specifically the massive destruction in the Cedar Rapids area," said Josh Holland, assistant director of the RRT. "We are deploying crisis-trained chaplains to share the love of Christ with people who are going through a tough time in this already very difficult year. We have deployed to the Cedar Rapids area in the past and appreciate the opportunity to serve that community once again."
RRT chaplains are also currently deployed to Bertie County, North Carolina, after an EF-3 tornado spawned from Hurricane Isaias last week.
For more information on the ministry, including videos, photos, news articles and an interactive map of former and current deployments, visit BillyGraham.org/RRT. Updates can also be found at Facebook.com/RRTChaplains.
About the Billy Graham Rapid Response Team:
The Billy Graham Rapid Response Team was developed by Franklin Graham and the Billy Graham Evangelistic Association following the attacks of Sept. 11, 2001. It has since grown into an international network of chaplains in the U.S., U.K., Canada and Australia who are specifically trained to deal with crisis situations. They have deployed to more than 450 disaster sites across the globe, including shootings, floods, hurricanes, wildfires and tornadoes.
– 30 –