Press Resources
Thank you for your interest in the Billy Graham Library. You'll find everything you need to cover the Billy Graham Library on this page, including downloadable high-res photos, as well as other helpful links.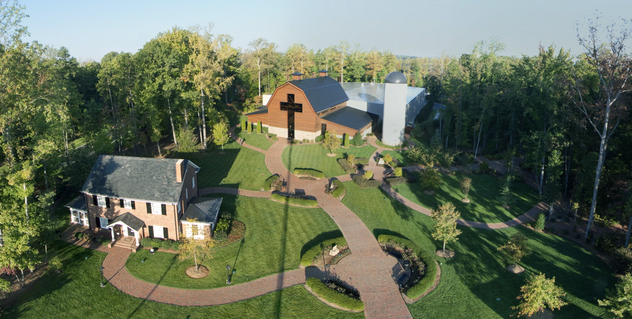 About the Billy Graham Library
The Billy Graham Library opened in 2007 and has since had more than 1.8 million visitors from around the world. Admission to the Library and The Journey of Faith is free. For more information on the Library and upcoming events, or to schedule a group tour, please visit BillyGrahamLibrary.org.
---
Follow on Social Media
---
About Billy Graham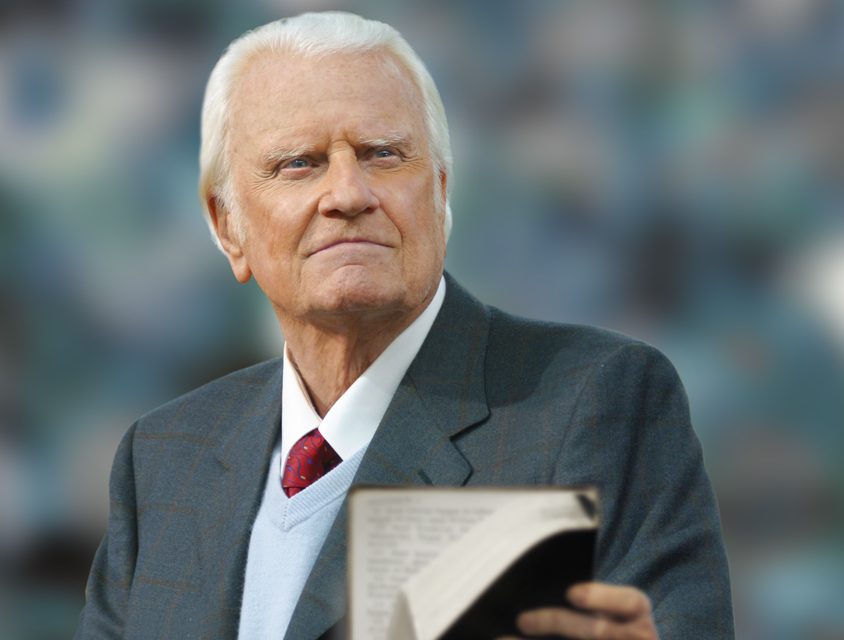 William Franklin Graham, Jr.
Nov. 7, 1918-Feb. 21, 2018
Billy Graham was born and raised on a dairy farm in Charlotte, North Carolina – just 4 miles from where his namesake library now sits. He preached the Gospel message to over 215 million people in more than 185 countries and territories and reached countless more through radio, television, film, books, and the internet. Billy Graham also initiated international training events that served as catalysts for global evangelism, equipping the church to take the Good News of Jesus Christ to the ends of the earth.
Billy Graham's counsel was sought by presidents, and his appeal in both the secular and religious arenas is evidenced by the wide range of groups that have honored him, including numerous honorary doctorates from many institutions in the U.S. and abroad.
When asked how he wanted to be remembered, he replied simply, as his gravestone states (which can be seen on the ground of the Billy Graham Library in the Memorial Prayer Garden): a preacher of the Gospel of the Lord Jesus Christ.
---
Media Opportunities
Interviews with:
Dr. David Bruce, executive vice president of the Billy Graham Library, Billy Graham Archive and Research Center, longtime assistant to Billy Graham
Tanya Mazingo, communications manager of the Billy Graham Library
Additional Details:
Stock photos and b-roll from the Billy Graham Library are available below. For additional images, contact Lisa Moseley, lmoseley@bgea.org.
---
Press Releases
RECENT PRESS RELEASES / PHOTOS
————
CHARLOTTE, N.C., Sept. 13, 2023 –The Billy Graham Library will host a family-friendly, Biblically-focused Hispanic Heritage Celebration Day on Saturday, Sept. 23, from 10 a.m.-3 p.m. as part of National Hispanic Heritage Month. MORE…
————
CHARLOTTE, N.C., 13 de septiembre de 2023 – La Billy Graham Library celebrará el Día de la Herencia Hispana el sábado 23 de septiembre, de 10 a. m. a 3 p. m., como parte del Mes Nacional de la Herencia Hispana. MAS…
————
CHARLOTTE, N.C., Jan. 24, 2023 – Beginning Feb. 1, guests who visit the Billy Graham Library can experience the newly updated Journey of Faith – an interactive tour highlighting the message of hope that Billy Graham preached for more than 80 years. In addition to the tour, the Library is set to welcome visitors to two upcoming events in February, including a book signing with Pat Boone and a remembrance event honoring Rev. Billy Graham on the 5th anniversary of his passing. MORE…
————
CHARLOTTE, N.C., Dec. 12, 2022 – The Billy Graham Library will welcome Mike Pence, 48th vice president of the United States, as he signs copies of his recently released autobiography So Help Me God from 1:30 to 3:30 p.m. on Tuesday, Dec. 13.
Mr. Pence will also join Franklin Graham for the ribbon cutting and dedication of a new expansion at the Billy Graham Library on Tuesday. The recently constructed Billy Kim Hall will allow training and events to be held at the Billy Graham Library, which has welcomed 1.7 million visitors since opening in 2007. MORE…
————
CHARLOTTE, N.C., Oct. 17, 2022 – The Archive and Research Center at the Billy Graham Library in Charlotte, North Carolina, will officially open on Nov. 8. The 30,000 sq. ft. facility will house all of Billy Graham's papers and artifacts in one location for the first time. This consolidation will allow scholars to study archive materials in the same place where they can also visit the adjacent Billy Graham Library, Graham's boyhood home and his gravesite, and the Billy Graham Evangelistic Association headquarters. MORE…
---
Media Contact Information
Lisa Moseley
Senior Public Relations & Social Media Specialist
Office: 704-401-2116
Mobile: 980-939-4377
lmoseley@bgea.org
---
Downloads to Plan Your Visit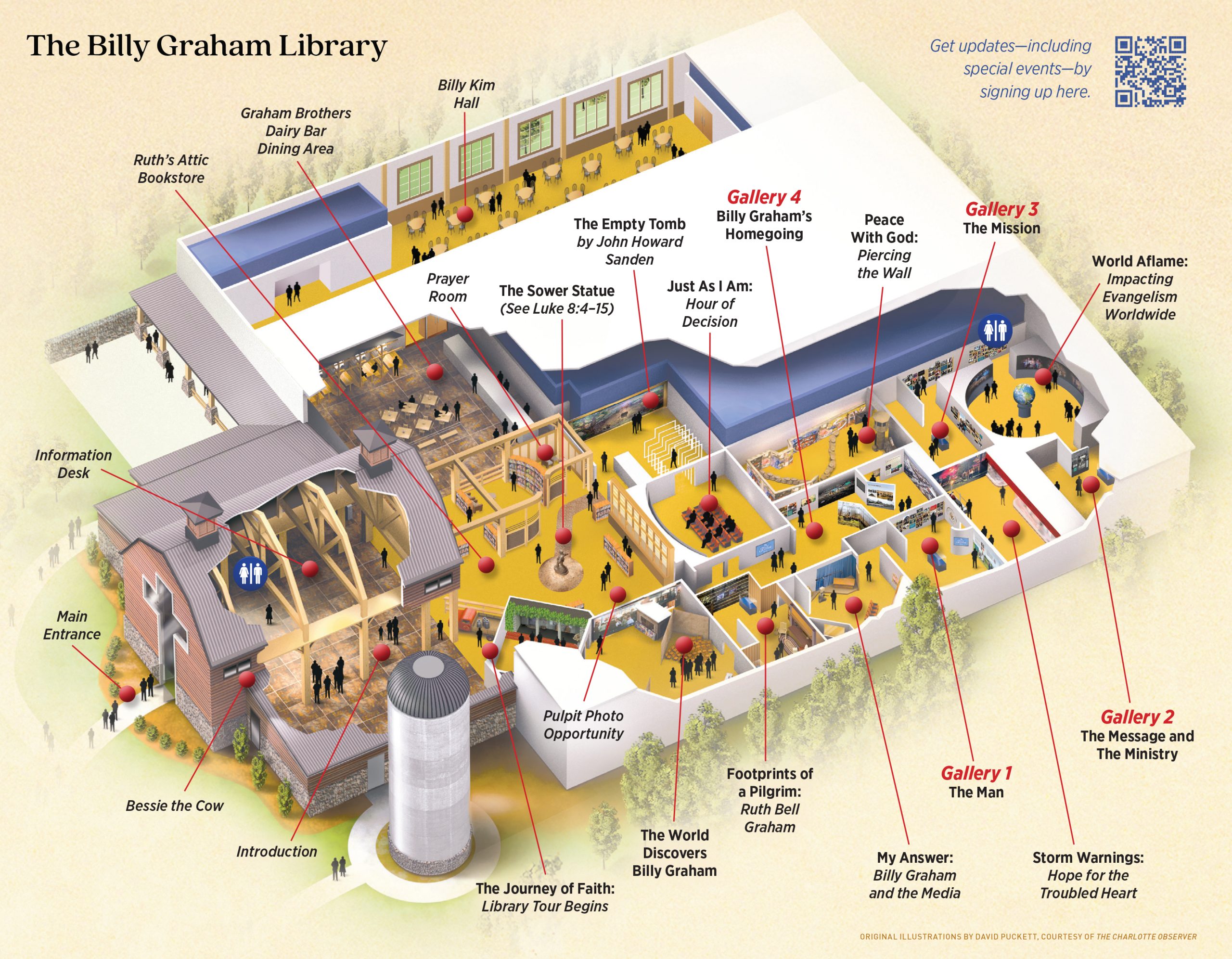 ---
---
---