Archive and Research Center at the Billy Graham Library Press Kit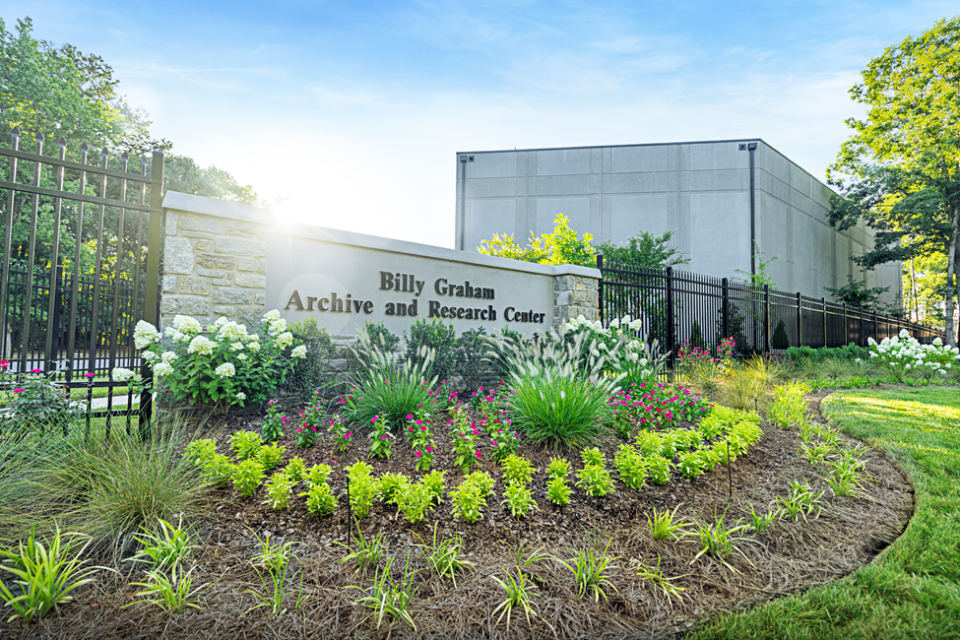 CHARLOTTE, N.C., Oct. 17, 2022 –The Archive and Research Center at the Billy Graham Library in Charlotte, North Carolina, will officially open on Nov. 8. The 30,000 sq. ft. facility will house all of Billy Graham's papers and artifacts in one location for the first time. This consolidation will allow scholars to study archive materials in the same place where they can also visit the adjacent Billy Graham Library, Graham's boyhood home and his gravesite, and the Billy Graham Evangelistic Association headquarters.
"There is a generation that doesn't know Billy Graham, they don't know Jesus Christ or anything about God," said Franklin Graham, president and CEO of the Billy Graham Evangelistic Association. "We want to inspire and equip future leaders to carry out the Great Commission as they study my father's written, audio, and video materials from decades of ministry to learn what God did through Billy Graham and how God did it. I feel that this is so important for future generations; to preserve my father's records and have it where people can study the work of evangelism."
Some of the items catalogued and preserved through the advanced archival operation at the new Archive and Research Center include Billy Graham's personal memorabilia; numerous press and media records of Billy Graham's evangelistic, civic and personal endeavors; and corporate Billy Graham Evangelistic Association historical documents. The collection also features many items from Billy Graham's private records, which have never before been available for public viewing, including: Graham's correspondence with 13 U.S. Presidents, international heads of state, Hollywood celebrities, sports figures, and other people of influence; as well as objects, artwork and keepsakes from Mr. Graham's world travels and ministry opportunities.
Of all the items in the archives, the manuscripts that Mr. Graham carried into the pulpit may be of most interest. Visiting scholars will be able to study the notes and red-line markings he made, noting the process that propelled him to preach the Good News of Jesus Christ to approximately 215 million people around the world over the course of seven decades.
Those wishing to conduct research at the Billy Graham Archive and Research Center – including scholars, ministry leaders, students, and others – are required to schedule an appointment at least 14 days in advance to allow adequate time for all records relating to their inquiry to be gathered and prepared.
To learn more about the research opportunities and in-depth training in evangelism, visit BillyGrahamArchiveCenter.com or call 704-401-3200.
About the Archive and Research Center at the Billy Graham Library
Encompassing more than 70 years of ministry audio, video, photos, and documents, the Billy Graham Library and Billy Graham Archive and Research Center have one mission: to encourage, inspire, and equip future leaders for the task of proclamation evangelism, in order to see men, women, and children come to salvation through a personal relationship with Jesus Christ.
-30-
Media Contact:
Lisa Moseley
(704) 401-2116
lmoseley@bgea.org