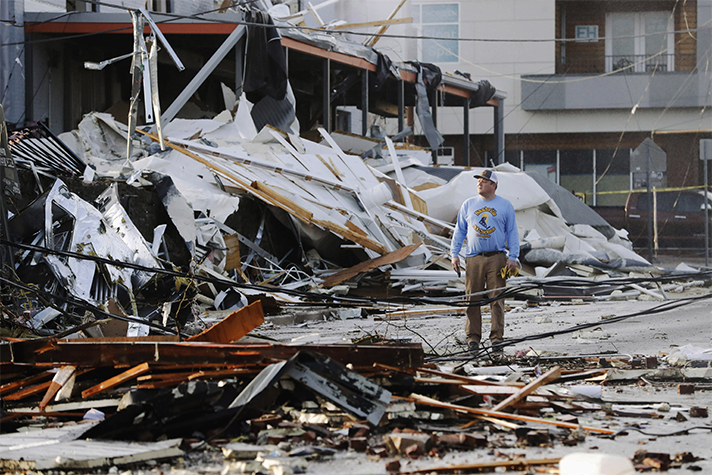 CHARLOTTE, N.C., March 3, 2020 – The Billy Graham Rapid Response Team (RRT) has chaplains en route to the Nashville, Mt. Juliet and Cookeville, Tennessee, areas after overnight storms and tornadoes left a path of destruction across the state with death tolls continuing to rise.
"When I woke up this morning, I was saddened to read about the tornadoes in Tennessee," Franklin Graham posted on his Facebook page. "We have many friends and family in the Nashville area. I pray there will be a quick recovery and that God will wrap His arms around those who have lost loved ones and are hurting."
At least 24 people across four counties have died, including 14 in Putnam County where Cookeville is located. Many others having been hospitalized with injuries suffered during the storm and others are still missing. Multiple tornadoes reportedly touched down as part of the storm system, including an EF-3 with winds between 136 and 165 mph that struck Nashville.
"March often signifies the start of tornado season. While we remain prepared to respond, we are deeply saddened, particularly about the extensive loss of life throughout the state of Tennessee," Josh Holland, assistant director of the RRT said. "We have crisis-trained chaplains en route and on standby to provide and offer God's comfort and hope through Jesus Christ to those who are grieving."
Reports say that as many as 48 structures have collapsed in and around Nashville and there are at least 50,000 people without power.
Including the three deployments to Tennessee this week, the RRT has now responded to 10 disasters—five tornadoes—in 2020, having also deployed to tornadoes in DeSoto County, Mississippi, in January and Spartanburg, South Carolina, in February.
For more information on the ministry, including videos, photos, news articles and an interactive map of former and current deployments, visit BillyGraham.org/RRT. Updates can also be found at Facebook.com/RRTChaplains.
About the Billy Graham Rapid Response Team:
The Billy Graham Rapid Response Team was developed by Franklin Graham and the Billy Graham Evangelistic Association following the attacks of Sept. 11, 2001. It has since grown into an international network of chaplains in the U.S., U.K., Canada and Australia who are specifically trained to deal with crisis situations. They have deployed to more than 450 disaster sites across the globe, including shootings, floods, hurricanes, wildfires and tornadoes.
– 30 –
Media Contact:
Blake Freeland
(704) 401-2124 – Office
bfreeland@bgea.org