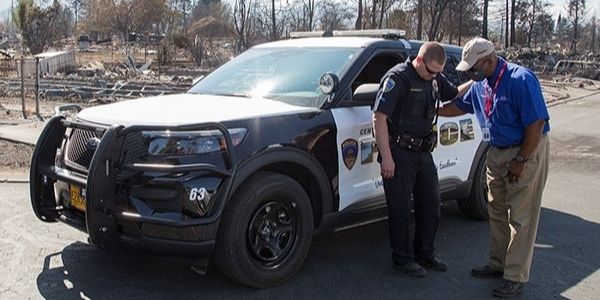 Billy Graham Rapid Response Team expands Law Enforcement ministry
The Billy Graham Rapid Response Team (BG-RRT) announced that it will be expanding its law enforcement ministry with Law Enforcement Appreciation events in multiple cities across the United States.
The first three Law Enforcement Appreciation Dinners for sworn officers and their spouses will be Dec. 14-16 in Charlotte, North Carolina. Additional dates and cities for the Law Enforcement Appreciation events are still being confirmed and will be released at a later date.
"Law enforcement officials serve 24/7 protecting our communities," said Franklin Graham, CEO of the BGEA. "Their lives are in danger every day on the streets. Here at the Billy Graham Evangelistic Association, we hold law enforcement retreats and seminars. We've been doing this for years where we bring officers and their spouses together for a few days of prayer and Bible study. It's been an incredible opportunity to minister to them, but we want to take what we've been doing for the last several years, and in 2021, we want to expand this."
This past October marked the ninth National Law Enforcement Retreat at The Cove in Asheville. The first National Law Enforcement Retreat was held in 2014 in Asheville, before adding a second site at Horseshoe Bay, Texas, in 2018. Now, the BG-RRT will begin hosting additional events which will allow the organization to provide emotional and spiritual care to additional law enforcement officers who put their lives on the line every day.
To learn more about the BG-RRT National Law Enforcement Ministry and its upcoming events, visit www.rrt.billygraham.org/nlem/.
---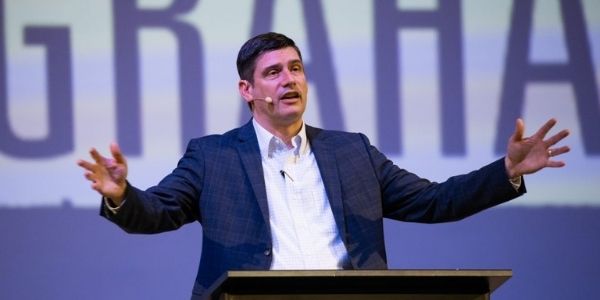 Will Graham visits Tifton for Reboot Rally
On Tuesday, Nov. 10, Will Graham held a special Reboot Rally in Tifton, Georgia, to rebuild momentum for the upcoming Tiftarea Celebration with Will Graham. The Celebration was originally scheduled for March of this year but was postponed due to the COVID-19 pandemic.
"As we ramp up the process that will lead us to the Tiftarea Celebration in February, it's important to gather, encourage each other, and cry out to God together for this region," Will Graham said leading up to the event.
More than 50 people gathered in Tifton for the rally, being careful to social distance throughout the church sanctuary. Many others watched the event online via livestream, where Graham encouraged people in the hope of Jesus Christ.
"If there's one word that describes 2020, I would say that it's 'fear.' Fear over the election. Fear of COVID. Fear of losing your job or being alone," said Graham. "Jesus is the only name that dispels fear. It's the Word of God that dispels fear."
Graham was joined by Josh Havens and Matt Fuqua of The Afters, who led worship at the event. The Afters are one of the musical guest groups who will be joining Graham on stage at the Celebration, which was rescheduled for Feb. 5-7, 2021.
Visit www.TiftareaCelebration.com for more information and details about the upcoming Tiftarea Celebration with Will Graham.
---
Billy Graham Library hosts Ladies Night Out
On Saturday, Nov. 21, the Billy Graham Library hosted its annual Ladies Night Out.
Adhering to COVID-19 guidelines, guests gathered at the Library and enjoyed dinner, fellowship, and a special message from Rachel-Ruth Wright, daughter of Anne Graham Lotz and granddaughter of Billy Graham.
Referencing the Christmas story in Luke 2:10, Wright encouraged ladies with the hope that Jesus Christ offers amidst the fears surrounding the world today. Just as the shepherds first heard "Do not be afraid…" when the angel of the Lord announced the birth of Jesus Christ, the first thing we need to hear this season is, "Do not be afraid."
Now through Dec. 23, the Library is hosting its 13th annual Christmas at the Library. People from across the Southeast and the U.S. come to Christmas at the Library each year to experience the retelling of the birth of Jesus Christ, complete with a live Nativity depicting the very first Christmas night.
Operating hours during Christmas at the Library are Monday through Thursday, 9:30 a.m.-9 p.m., and Friday and Saturday, 9:30 a.m.-10 p.m. Reservations are required.
To book a free reservation for Christmas at the Library or for more information, visit www.billygrahamlibrary.org.
---
If you would like more information about these, or other, updates from the Billy Graham Evangelistic Association, please contact media@billygraham.org. Complete press releases from the Billy Graham Evangelistic Association are available at media.billygraham.org.