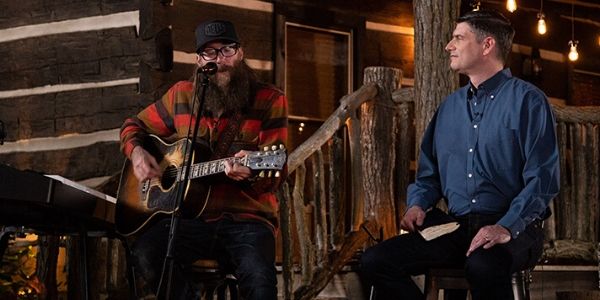 Will Graham shares message of hope during livestreamed conference
On June 2, Will Graham preached a message of hope via livestream in coordination with Sydney-based Christian Media & Arts Australia (CMAA). The broadcast was a part of CMAA's Connect 20 Online Media & Arts Summit, a Christian conference based in Australia.
More than 50,000 people tuned in from over 50 countries as Graham shared encouragement from Psalm 107. "When we cry out to God, God changes things," Graham shared. "When we cry out to God, God wants to rescue us. He'll heal you. He's not oblivious to what's going on in your life."
Graham was joined by award-winning musical guest Crowder, who sang about God's promise to rescue us from the brokenness.
This was Graham's third online evangelistic outreach since the beginning of the COVID-19 pandemic. On March 20 he was joined by Josh Havens and Matt Fuqua of The Afters as he broadcast a message of hope live from The Cove. Three weeks later, on April 10, Graham – along with musical guest Aaron Shust – delivered a special Good Friday message from the Billy Graham Library in Charlotte. The Good Friday outreach alone was viewed by over 335,000 people in more than 75 countries, with hundreds indicating a decision for Jesus.
---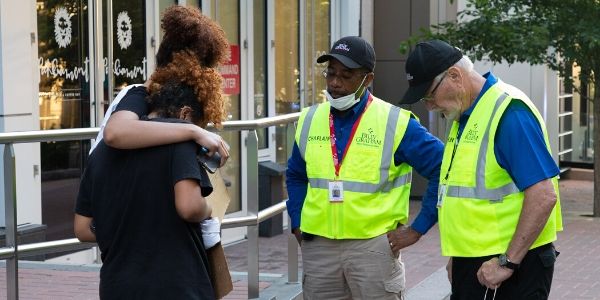 The Billy Graham Rapid Response Team deploys to protesting cities
In June, the Billy Graham Rapid Response Team (RRT) continued their ministry of presence as they deployed to Greensboro, North Carolina, on June 4 during the Mission Greensboro rally.
"In response to an invitation, we are sending RRT chaplains to Greensboro to provide emotional and spiritual care with a message of hope to those who are protesting and expressing their concern for social injustice following the recent death of Mr. George Floyd," said Jack Munday, international director of the RRT. "During our ministry in both Minneapolis and Charlotte, we have found the frustration and needs of those protesting is great as many agree to conversation and welcome prayer. For that reason, we share God's hope in Jesus Christ, for without Christ, we believe a person's life can be overwhelmed with despair and hopelessness."
RRT chaplains responded to protests in Minneapolis, Minnesota, from May 28-June 12, and in Charlotte, North Carolina, from May 31-June 16, supporting those communities experiencing a time of crisis surrounding the death of George Floyd.
For more information on the ministry, including videos, photos, news articles and an interactive map of former and current deployments, visit www.BillyGraham.org/RRT. Updates can also be found at www.Facebook.com/RRTChaplains.
---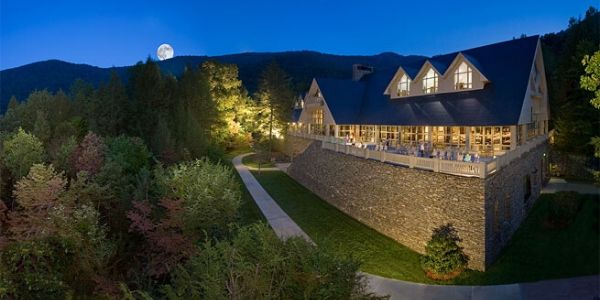 The Billy Graham Training Center at The Cove reopens following coronavirus closure
On Wednesday, June 10, the Billy Graham Training Center at The Cove opened all facilities following closure due to the coronavirus
"It is our prayer that as we reopen The Cove, our visitors and guests will experience the hope and peace of Jesus in a new and refreshing way," said Will Graham, executive director of The Cove.
The Cove staff is welcoming guests to upcoming seminars and events at the Training Center as well as to the Chatlos Memorial Chapel and Visitors Center, Ruth's Prayer Garden, and Ruth's Attic bookstore with added precautionary measures being implemented.
Franklin Graham, president and CEO of the Billy Graham Evangelistic Association, looks forward to "welcoming guests back to the Billy Graham Training Center at The Cove." He continued, "During uncertain times, like the coronavirus, people need to hear more of God's love and the hope available through His Son, Jesus Christ."
Procedures are in place to ensure compliance with social distancing standards according to North Carolina's Phase 2 guidelines. Added hand sanitizing stations and increased cleaning of high-touch surfaces will be in place. Visitors are encouraged to follow CDC guidelines for being in public places. Of course, anyone with symptoms consistent with COVID-19 should not visit at this time, though we look forward to hosting them when they are well. A full list of precautionary measures can be found at www.TheCove.org/Safety.
Upcoming events include:
July 18: An Evening at The Cove with Phil Keaggy
July 27-31: Intensive Bible Training—Daniel and Revelation: How God Wrote History in Advance with Alex McFarland
For additional information on the Billy Graham Training Center at The Cove, including updates and announcements, visit www.TheCove.org.
---
If you would like more information about these, or other, updates from the Billy Graham Evangelistic Association, please contact media@billygraham.org. Complete press releases from the Billy Graham Evangelistic Association are available at media.billygraham.org.