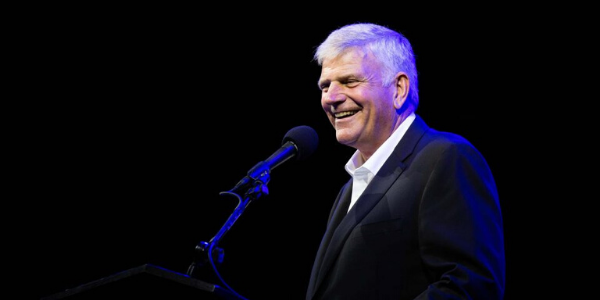 Graham offers message of hope to thousands at Decision America Sunshine State Tour
Franklin Graham's Decision America Sunshine State Tour visited six Florida cities in January, starting in Jacksonville Beach and ending in Fort Myers. Thousands of people gathered to hear a message of hope each night, with a grand total of more than 39,000 in attendance.
"I want people to have hope that their sins can be forgiven," Graham told local media before preaching to 7,600 people at the Seawalk Pavilion in Jacksonville Beach.
Each night, hundreds made decisions to follow Jesus Christ. "The only hope you have in the earth, in this world, is Jesus," Franklin Graham proclaimed in Plant City.
"I think everyone wants to have a purpose," Graham continued. "We have a vacuum of emptiness that can only be filled by God Himself. He has a plan and purpose for your life. He wants you to have peace, joy and fulfillment."
Graham was joined by Grammy-nominated music artist Jeremy Camp and award-winning guitarist Dennis Agajanian who performed live at each event. Camp shared about his own faith journey, "How can you not be joyous knowing you've been taken out of that pit and given new life?"
Graham will hold a Festival of Hope in the Northern Mariana Islands on Feb. 21 and Guam on Feb. 23. In May, the Graham Tour U.K. will commence as Graham visits cities across the United Kingdom to deliver a message of hope. To learn more about upcoming events with Franklin Graham, visit BillyGraham.org.
---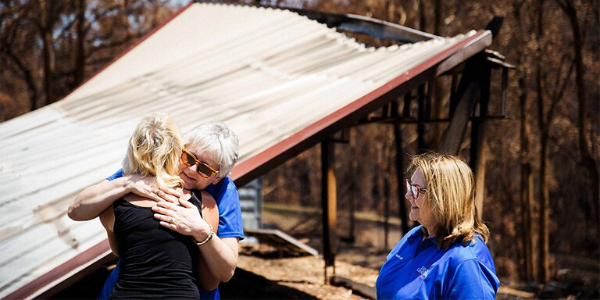 Billy Graham Rapid Response Team chaplains minister in Australia amid bushfire crisis
As Australia faces one of its worst bushfire seasons in decades, crisis-trained chaplains from the Billy Graham Rapid Response Team (RRT) have been ministering to dozens of hurting hearts, offering a listening ear and sharing a message of hope to distraught residents. "We've moved away from farming areas and are now working along coastal areas where there's a higher number of people in little towns," explained Stewart Beveridge, RRT manager of Australia/New Zealand. "When teams go there, we've seen total loss."
While chaplains have been serving in various parts of the continent since September, they are currently ministering in Bairnsdale, Victoria, and Batemans Bay, New South Wales—marking the first time the team has run a simultaneous multi-site deployment in Australia.
"What's made this situation stand out so much is the scale of disaster," Beveridge continued. Many have lost their lives to the bushfire crisis. With such a high magnitude of tragedy, RRT chaplains from the U.S., U.K. and Canada traveled to Australia to offer a ministry of presence to homeowners.
Volunteers from Samaritan's Purse, a humanitarian aid organization also run by Franklin Graham, have been helping these communities recover. Along the way, homeowners have been requesting visits from RRT chaplains, which is "an Australian first," Beveridge said.
"We're at a really hard phase," Beveridge said. "But chaplains are here to help people move from one place to another, helping them to think about the big possibilities, the eternal possibilities—that the reality of God is present in every situation of life."
The RRT will continue to provide care for fire-affected communities through February. Crisis-trained chaplains have also recently deployed to DeSoto County, Mississippi, and Spartanburg, South Carolina, following tornadoes in both areas. On Jan. 22, the RRT wrapped up its four-month deployment in Man-O-War, Bahamas, after Hurricane Dorian. Chaplains continue to serve in Rockport/Pearland, Texas, and daily at the Billy Graham Gravesite.
For more information on the ministry, including videos, photos, news articles and an interactive map of former and current deployments, visit BillyGraham.org/RRT. Updates can also be found at Facebook.com/RRTChaplains.
---
Cissie Graham Lynch inspires listeners to stand boldly for God's truth in podcast Fearless
In June 2019, Cissie Graham Lynch, daughter of Franklin Graham and granddaughter of Billy Graham, launched her podcast titled Fearless with Cissie Graham Lynch: Fearless Faith in a Compromising Culture. Each episode features a discussion of relevant issues in culture such as abortion, addiction, balancing life, politics and more, and provides insight on what the Bible teaches about these topics.
Today, Graham Lynch continues to encourage listeners to stand boldly for the Gospel of Jesus Christ in an ever-compromising world. "One of the most important lessons I learned from my parents and my grandparents was to never compromise my beliefs because of what the world says," said Graham Lynch. "I want to help people navigate these tough issues and to give them practical ways to live out their faith in truth and love and to be unapologetic and fearless in a world that is forever compromising."
The podcast featuresa variety of guests, including Graham Lynch's father Franklin Graham, her husband and former NFL player Corey Lynch, J. Warner Wallace, and, most recently, Adrienne Camp.
Fearless is available for streaming and download through SoundCloud, Apple Podcasts and other podcast players, and can be streamed directly at CissieGrahamLynch.com. Listeners can also follow Facebook.com/BillyGrahamRadio for regular updates and programs.
---
If you would like more information about these, or other, updates from the Billy Graham Evangelistic Association, please contact media@billygraham.org. Complete press releases from the Billy Graham Evangelistic Association are available at media.billygraham.org.