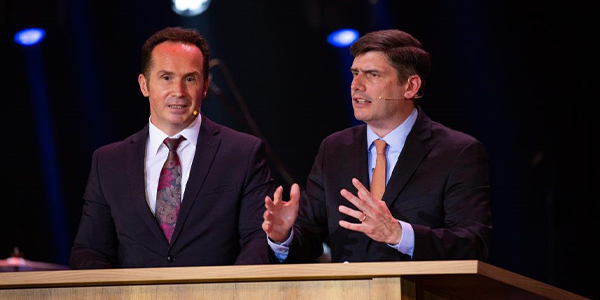 Will Graham preaches Christ at first BGEA event in Albania
Will Graham made history Aug. 30 in Tirana, Albania. For the first time ever, an evangelist from the Billy Graham Evangelistic Association shared the Gospel in this former communist country.
The "Festim Shprese" or Celebration of Hope with Will Graham was held at the Palace of Congress in the nation's capital city.
More than 50 years ago, the communist party declared Albania to be the world's first atheist nation. Last month, the grandson of Billy Graham told residents about a saving relationship with Jesus Christ.
The crowd heard Will Graham's message in the country's official language, Albanian, with the aid of an interpreter. Along with Armenian and Greek, the language is one of three surviving Indo-European languages.
Will Graham has scheduled meetings in September in Helena, Hamilton and Great Falls, Mont., United States; in October in Belleville, Ontario, Canada; and in Baker Lake, Nunavut, Canada. For information on upcoming events, visit billygraham.org.
---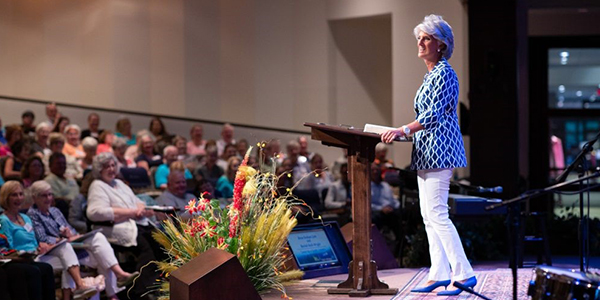 'I've never lost my joy': Anne Graham Lotz teaches for first time since cancer battle
After 10 months of cancer treatments, Anne Graham Lotz shared insights from God's Word at the Billy Graham Training Center at The Cove on Aug. 23-25, marking her first time teaching since her health battle began last fall.
"I've never trusted [God] more. I've never believed Him more," Billy Graham's daughter declared to the audience after receiving a standing ovation while others listened online. For decades, she's traveled around the globe sharing the Gospel.
Anne Graham Lotz hosted this conference called "Leaving a Godly Legacy in an Ungodly World" in the Blue Ridge Mountains of Asheville, North Carolina, alongside her daughter, Rachel-Ruth Wright.
Lotz spoke from personal experience when calling believers to stand up for the Gospel during life's trials.
 "I've never lost my joy. I've been aware every day of blessing after blessing after blessing. I love the Lord today more than I did yesterday, more tomorrow than I did today," Lotz said with a grateful heart.
For upcoming events at The Cove, visit thecove.org.
---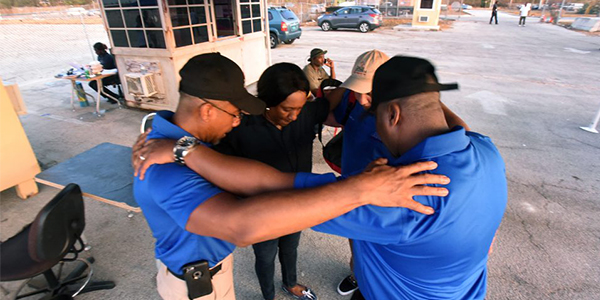 Billy Graham chaplains deploy to devastated Bahamas, Florida shelters
The Billy Graham Rapid Response Team (RRT) has deployed to offer emotional and spiritual care to hurting residents in the Bahamas in the wake of Hurricane Dorian, the strongest storm to ever hit the islands.
The monstrous hurricane hit the Bahamas as a Category 5 on Sunday, Sept. 1, and hovered over northwestern islands with strong winds and pouring rain for two days. At least 30 people died in the hurricane, and thousands of homes have been severely damaged or destroyed in what Bahamian Prime Minister Hubert Minnis called an "unprecedented" disaster.
"It's a catastrophe of historic proportions," RRT assistant director Josh Holland said from Billy Graham Evangelistic Association headquarters in Charlotte, N.C.
Samaritan's Purse and the RRT are working alongside church partners to determine the areas of greatest need. While crisis-trained chaplains will be offering a listening ear and the hope of Jesus to survivors, Samaritan's Purse will be giving out emergency items, such as temporary shelter materials and household water filters.
The RRT is also serving along the North Carolina coast following Hurricane Dorian, ministering in various North Carolina shelters, as well as in New Bern and Ocracoke Island, North Carolina. Additionally, teams of chaplains are currently deployed at the border in Del Rio, Texas, and continue to serve during rebuilds in Rockport/Pearland, Texas.
For more information on the ministry, including videos, photos, news articles and an interactive map of former and current deployments, visit billygraham.org/rrt. Updates can also be found at facebook.com/rrtchaplains.
---
If you would like more information about these, or other, updates from the Billy Graham Evangelistic Association, please contact media@billygraham.org. Complete press releases from the Billy Graham Evangelistic Association are available at media.billygraham.org.