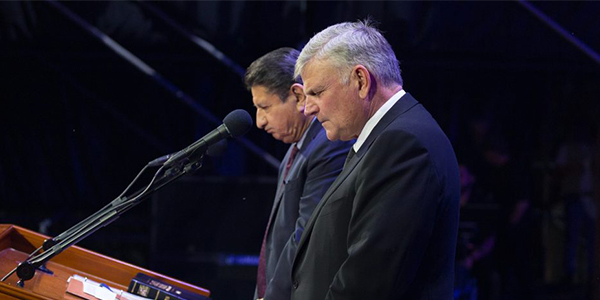 Franklin Graham concludes festival in Cúcuta, launches Decision America Northeast Tour
Evangelist Franklin Graham and the Billy Graham Evangelistic Association (BGEA) – alongside more than 450 local churches – proclaimed the Gospel message of God's love in Cúcuta, Columbia, on Easter weekend. A total of 116,500 attended the Festival de Esperanza (Festival of Hope), including a special event for children.
"Jesus was crucified, died, and buried—but He didn't stay in that grave. The tomb is empty! He's alive! He's risen," said Graham. "And He offers us salvation and eternal life in heaven if we will repent of our sins and put our faith in Him."
Looking forward, Graham will launch Decision America Northeast Tour on May 19. The seven-city tour begins in Portland, Maine, and ends in Syracuse, N.Y. Graham will deliver a message of hope and popular Grammy-nominated music artist Crowder will perform at each stop.
For more information including locations, dates, and times of the tour, visit decisionnortheast.com
---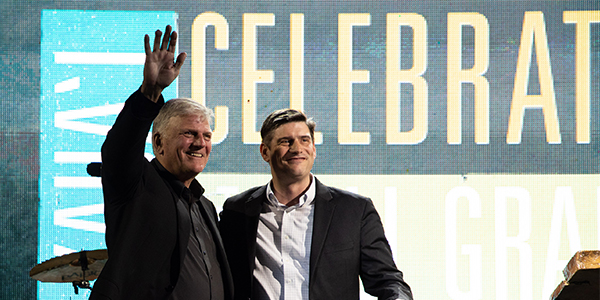 In historic first, evangelist Franklin Graham joins son Will Graham for the Kaua`i Celebration with Will Graham
Evangelist Will Graham visited the island of Kaua`i, Hawaii, where 6,495 people heard the Gospel during the three-day Kaua`i Celebration with Will Graham at Lihue's Vidinha Stadium, May 3-5, 2019.
In an unexpected surprise for those in attendance, Will Graham was joined by his father, Franklin Graham, who spoke at Friday night's opening service. It was a historic moment because it was the first time the two generations have preached from the same stage at a Will Graham Celebration.
"Sin is a robber. It steals your joy, your happiness, your fellowship with God," said Franklin on Friday night. "Jesus is here. Will you reach out to Him? Are you willing to call on the name of the Lord Jesus Christ tonight?"
Will spoke on Saturday and Sunday nights, and shared the same eternal hope of Christ. "God can change your life tonight. He wants to come into your life and give you a chance to turn around," said Will. "God's chasing after you, not to punish you but to love you. Surrender all of your brokenness, your junk. Hand it over to God. He'll take it and give you a new life."
Will's next outreach will take place in Albania, the first time that any evangelist with the BGEA will preach in the country. From there he will hold the Big Sky Celebration (a tour of three cities in Montana – Helena, Hamilton and Great Falls) and a three-day Celebration of Hope in Belleville, Ontario.
For information on the Kaua`i Celebration with Will Graham, visit kauaicelebration.com.
---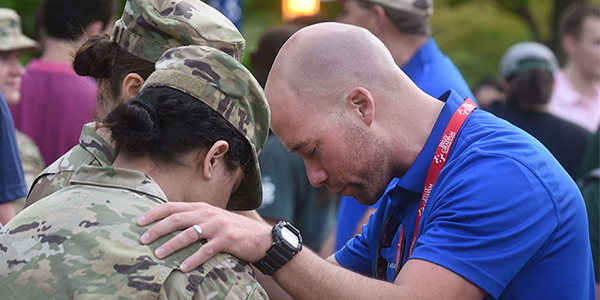 Chaplains join thousands in prayer across the country
On the final day of classes for the spring semester, the campus of the University of North Carolina at Charlotte was locked down as an active shooter opened fire. Two students were killed and several more were injured.
The Billy Graham Rapid Response Team (RRT) quickly made their way to the scene. Chaplains came alongside and offered comfort to the students, parents, staff, and first responders who were trying to make sense of the tragedy.
"Our chaplains respond to tragedies around the world, and now we are in our own community –heartbroken at the events that have unfolded," said Jack Munday, international director of the Billy Graham Rapid Response Team. "Across the country people are praying for the UNCC family, and we join them in praying for the loved ones of the students killed, as well as for the first responders, staff and city of Charlotte."
Within the past week, the RRT also sent chaplains to Michigan following disastrous flooding, and to Mooresville, N.C. following the death of Police Officer Jordan Sheldon.
For more information on the ministry, including videos, photos, news articles and an interactive map of former and current deployments, visit billygraham.org/rrt. Updates can also be found at facebook.com/rrtchaplains.
---
If you would like more information about these, or other, updates from the Billy Graham Evangelistic Association, please contact media@billygraham.org. Complete press releases from the Billy Graham Evangelistic Association are available at www.billygraham.org/pressreleases.