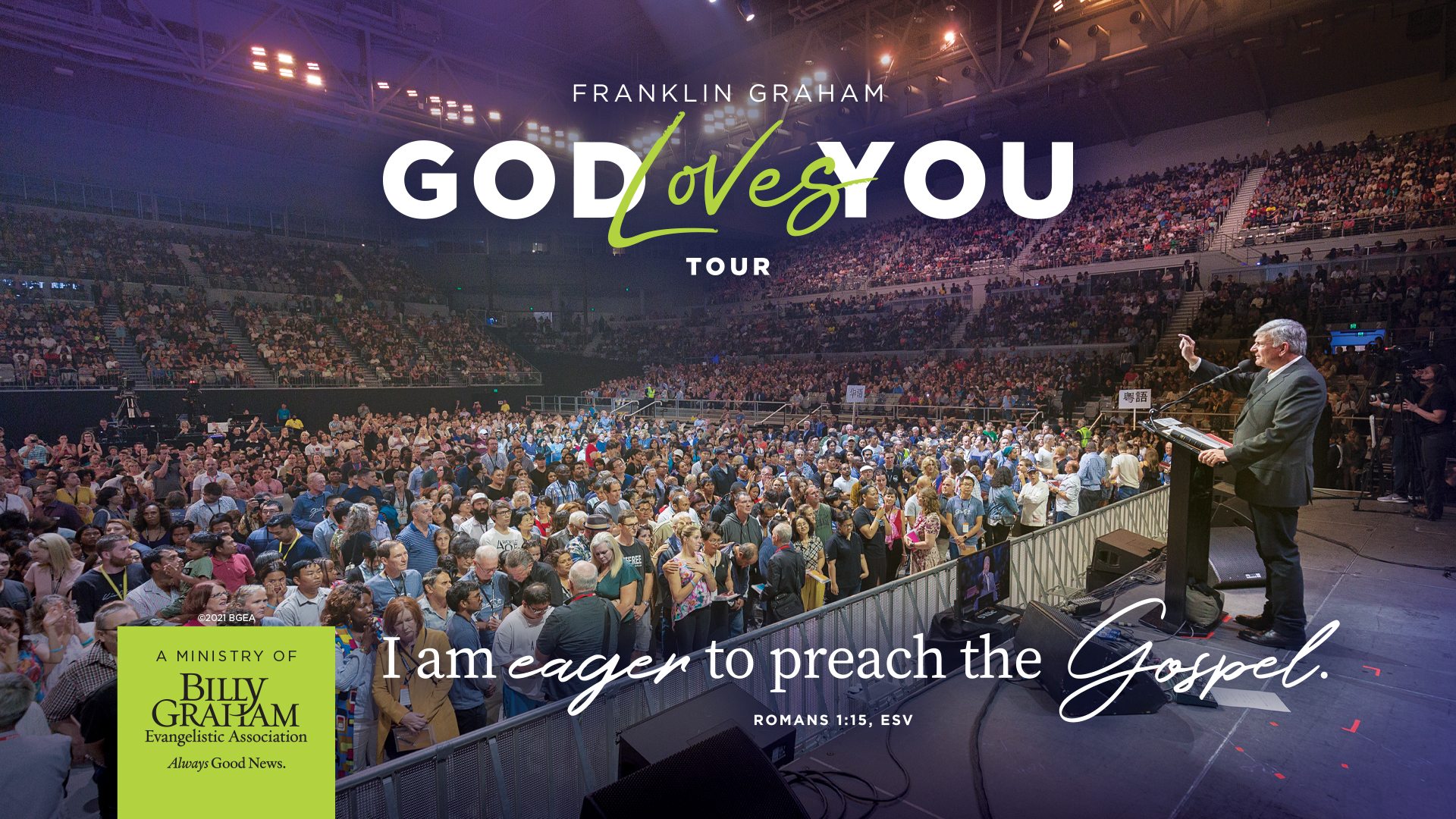 WHO:
Revd Franklin Graham is bringing the God Loves You Tour and a message of hope to Sheffield. The programme will feature several musical guests, including Grammy-nominated, platinum-selling Newsboys, who have had 33 #1 radio hits. The event is free, family-friendly, and all are welcome.
WHAT:
The four-city tour is an outreach of the Billy Graham Evangelistic Association, and it recently stopped in Liverpool and South Wales, where thousands of people came to hear Revd Graham share a message of God's love. After visiting Sheffield, the closing night of the tour will be held in London this summer. People from 300 churches across Yorkshire are working with Revd Graham and supporting the God Loves You Tour because they believe the life-changing message of the Bible needs to be shared in their community.
WHEN:
Wednesday 25 May at 7:00pm
WHERE:
Sheffield Arena
Broughton Lane
Sheffield
S9 2DF
WHY:
"I'm coming to Sheffield to share one simple message—God loves the people of the UK," said Revd Franklin Graham, president and CEO of the Billy Graham Evangelistic Association. "This Good News has the power to change your life forever, and that's why my father preached this same message at Bramall Lane Stadium in 1985 and throughout the UK for more than three decades."
TICKETS:
Tickets are free and they are required for entry. To secure your ticket, visit GodLovesYouTour.org.uk/LiverpoolTickets.
Ends
MEDIA:
Revd Graham will be available for interviews at 11:00am on Tuesday 24 May at Sheffield Arena. RSVPs are required and journalists must check-in on site by 10:30am. Media are also invited to cover the God Loves You Tour at 7:00pm on Wednesday 25 May, and RSVPs will also be required for security clearance.
CONTACT:
Submit an RSVP to interview Revd Graham and attend the God Loves You Tour by contacting Emily Phillips at 07702 565199 or emily.phillips@bgea.org.uk. Please include the name of the outlet, the journalist requesting security clearance, and their contact details. RSVPs for the media availability with Revd Graham must be received by 12:00pm on Thursday 12 May, and RSPVPs to attend the God Loves You Tour must be received by 3:00pm on Saturday 14 May. To download b-roll and photos, visit https://media.billygraham.org/god-loves-you-tour-uk.
-30-