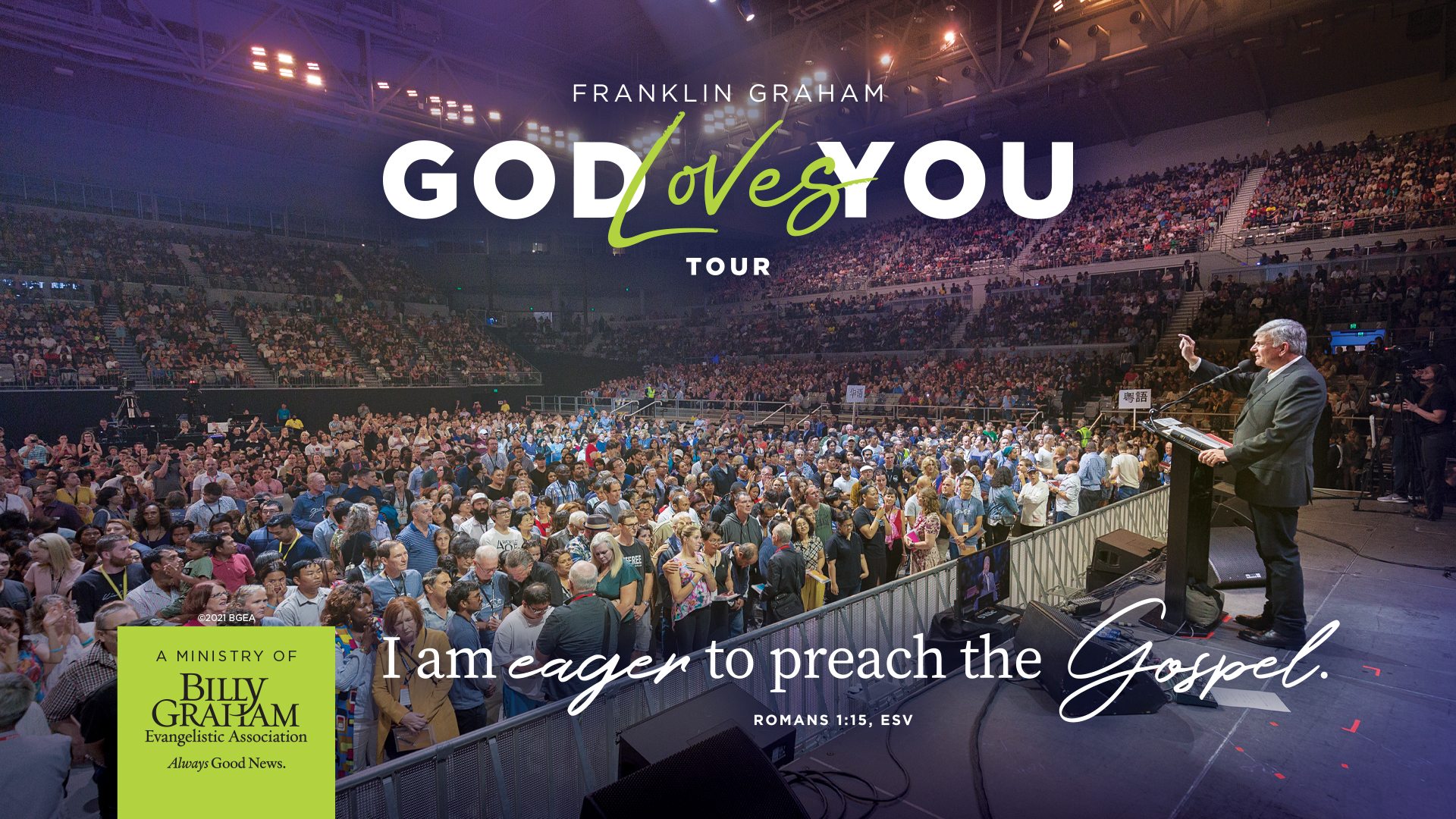 WHO:
Revd Franklin Graham is bringing a message of hope to Liverpool on the opening night of the God Loves You Tour. The programme will feature several musical guests, including Grammy-nominated, platinum-selling Newsboys, who have had 33 #1 radio hits. The event is free, family-friendly, and all are welcome.
WHAT:
The four-city God Loves You Tour is visiting Liverpool, South Wales, Sheffield, and London as an outreach of the Billy Graham Evangelistic Association. During each event, Revd Franklin Graham will remind people there is hope and God hasn't forgotten them. People from more than 400 churches in Merseyside are working with Revd Graham because they believe the life-changing message of the Bible needs to be shared in their community.
WHEN:
Saturday 14 May at 7:00pm
WHERE:
Exhibition Centre
Kings Dock,
Liverpool Waterfront,
L3 4FP
WHY:
"The last few years have been very difficult for many people in Merseyside who are hurting. With new challenges still to come, people need hope," said Dave Latham, pastor of City Church Liverpool. "This meeting hosted by Revd Franklin Graham will be like a fountain of hope that will share God's love with the hurting, peace with those who are troubled, and God's restoring power with the broken. This is the Good News that Liverpool needs to hear."
TICKETS:
Tickets are free and they are required for entry. To secure your ticket, visit GodLovesYouTour.org.uk/LiverpoolTickets.
Ends
MEDIA:
Revd Graham will be available for interviews at 11:00am on Friday 13 May in the Salisbury Suite at the Crowne Plaza Liverpool City Centre. Free parking will be provided. RSVPs are required, and journalists must check-in on site by 10:30am. Media are also invited to cover the God Loves You Tour at 7:00pm on Saturday 14 May, and RSVPs will also be required for security clearance.
CONTACT:
Submit an RSVP to interview Revd Graham and attend the God Loves You Tour by contacting Emily Phillips at 07702 565199 or emily.phillips@bgea.org.uk. Please include the name of the outlet, the journalist requesting security clearance, and their contact details. RSVPs for the media availability with Revd Graham must be received by 12:00pm on Thursday 12 May, and RSPVPs to attend the God Loves You Tour must be received by 3:00pm on Saturday 14 May. To download b-roll and photos, visit https://media.billygraham.org/god-loves-you-tour-uk.
-30-