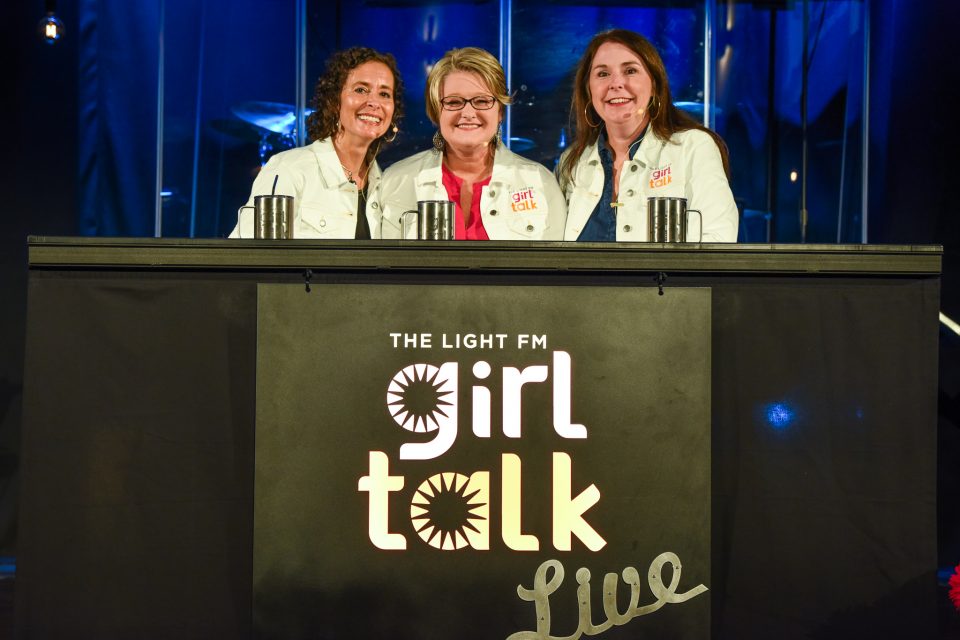 CHARLOTTE, N.C., Sept. 25, 2019 — The Light FM welcomed 250 women to the first-ever live recording experience of the Girl Talk podcast on Thursday, Sept. 12. Girl Talk Live, hosted at Discovery Church in Hickory, was a time for friends and family members to fellowship and grow deeper in their faith.
The night kicked off with worship from the Discovery Church Worship Team and moved to the live podcast recording. Carol Davis, Tricia Kelly Lancor, and Alicia Murray—hosts of Girl Talk— spent time focusing on the topic of forgiveness.
Speaking from personal experiences, the hosts began the discussion with just how hard forgiveness can be. "Sometimes we think forgiveness can be easy because we know we're called to forgive. God wants us to forgive … but [sometimes] I think it is super hard. How do you forgive the unforgivable?" Murray admitted.
Throughout the podcast, the hosts affirmed that God is the source of true forgiveness. Davis stated, "Forgiveness apart from Jesus really is impossible, but in order for us to live that abundant life that God has called us to, I think it is essential." Lancor related to this truth about forgiveness, saying, "It is not a feeling. It is a decision followed by prayer, followed by a choice to continue to do it and to call on God's strength."
Guests were invited to interact with the podcast hosts following this discussion, asking questions about the podcast, discussing forgiveness, and voicing prayer requests.
Davis, The Light FM morning show host and host of the Girl Talk podcast, wrapped up the night by delivering a powerful devotion about forgiveness. Over 200 women responded by following the invitation to come forward and pray over any issue of forgiveness they were facing.
Interested in listening to the podcasts from the Girl Talk Live event? Visit http://thelightfm.org/girltalk for more information or to listen to the latest episodes.
About The Light FM:
The Light FM is a listener-supported Christian radio group operated by Blue Ridge Broadcasting, a ministry of the Billy Graham Evangelistic Association. From a tower site near the peak of Mt. Mitchell, N.C., the station's flagship frequency, 106.9 FM WMIT, has the nation's 12th largest FM coverage area, reaching portions of seven states. The Light FM is also simulcast on multiple additional frequencies, and can be heard globally at thelightfm.org, via its smartphone apps for iPhones and Android, and on Amazon Echo, Tap and Google smart speakers.
-30-
FOR IMMEDIATE RELEASE:
Karis Kindinger
(704) 401-2516
kkindinger@bgea.org