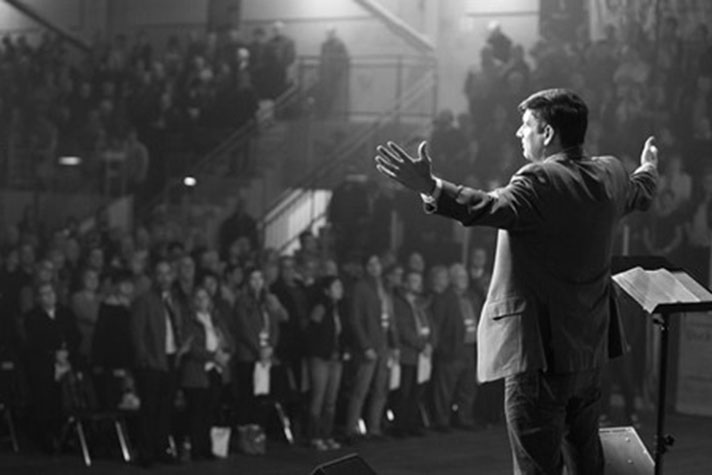 Dothan, Ala., Jan. 13, 2017—Approximately 450 people from across the Wiregrass region gathered on Thursday night, Jan. 12, in Dothan, Ala., to officially launch planning for the upcoming Wiregrass Area Will Graham Celebration. The Celebration, which will be held May 5-7 at the Dothan Civic Center, will be free of charge and will feature music from Christian artists and encouraging messages from evangelist Will Graham. Graham is the grandson of well-known evangelist Billy Graham and oldest son of evangelist Franklin Graham.
"Wherever I am around the world, I've found that many people struggle with the same things, with matters of the heart," said Graham before the launch event, discussing the importance of the upcoming Celebration.
"People are living for today and coming away broken and empty. They're searching for peace and purpose. I'm looking forward to returning to Alabama in May, and we'll discuss how to have hope not just for today, but for eternity."
Charles Nailen, who is guiding the efforts of the local Wiregrass Area Celebration committee, said, "When I was asked to lead this, it took all of about 30 seconds to say yes. It's going to be a lot of work in the coming months, but we know it will be worth it."
Nailen continued, "What will the Celebration bring to our area? In a word: Hope. The Celebration is going to bring hope to many people who are struggling, and people who have not yet come to know Jesus."
A nearly continuous stream of activities and planning will take place across the region between now and the Celebration in May, including prayer rallies, workshops, and community gatherings. Visit www.wiregrasscelebration.org for details and information.
Graham will be following in the footsteps of his famous grandfather, Billy Graham, when he preaches in Dothan. The elder Graham held a Crusade in the community in April 1965 as part of a tour of Alabama cities that included stops in Tuscaloosa, Auburn, the Tuskegee Institute and a week-long outreach in Montgomery.
Will Graham previously visited Alabama in 2010 for the East Alabama West Georgia Will Graham Celebration in Auburn. That event, which was held in the Beard-Eaves-Memorial Coliseum on the campus of Auburn University, remains the largest domestic Will Graham Celebration to date. Approximately 19,700 attended the three-day outreach.
In addition to the Wiregrass Area Will Graham Celebration in Dothan, Graham's 2017 schedule includes a Celebration in Indiana and international outreaches in Mexico and Canada. In 2016 he held the Colorado River Celebration in Lake Havasu, Ariz., as well as international events in Australia, China, Norway, Scotland, Uganda, and Canada.
About the Billy Graham Evangelistic Association (BGEA):
From its headquarters in Charlotte, N.C., the Billy Graham Evangelistic Association directs a wide range of domestic and international ministries. For more information, please visit www.billygraham.org. Get BGEA news updates on Twitter at www.Twitter.com/BGEANews.
Media Contact:
Erik Ogren
(704) 577-2109
eogren@bgea.org