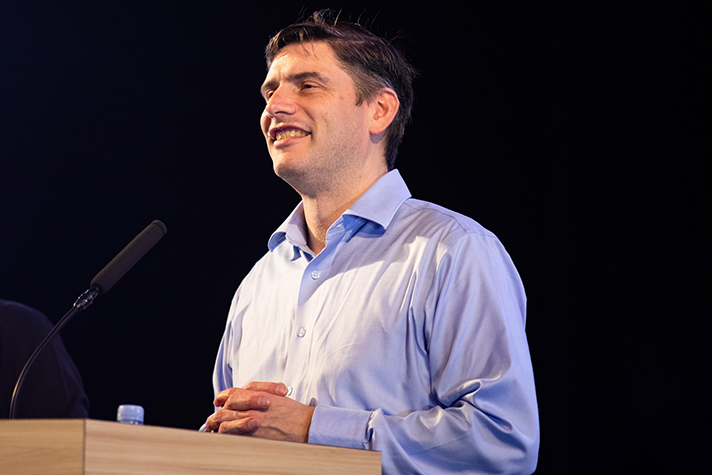 Helena / Great Falls, Mont., Jan. 24, 2019 – More than 350 people from across the region gathered this week in Helena and Great Falls to officially announce the upcoming Big Sky Celebration with Will Graham. The three-city, multi-day tour will be held Sept. 6-8 at the Lewis and Clark County Fairgrounds in Helena, Sept. 11 in Hamilton (location to be determined), and Sept. 13-15 at the Four Seasons Arena in Great Falls. Each region-wide outreach will feature nightly programs with music from Christian artists and encouraging messages from Will Graham, who is the grandson of the late evangelist Billy Graham, and son of Franklin Graham. All Celebration events will be family friendly and free of charge.
"No matter where I go in the world, people seem to be searching for the same things in life," said Graham. "They want to find hope. They're seeking their purpose. They long for peace and security. I believe that Jesus is the answer to all of these questions and struggles, and that will be my message for the people of Montana."
Even though the tour is still months away, community leaders are already energized by what the Big Sky Celebration with Will Graham may mean for their cities.
"God is sending Billy Graham's grandson, Will Graham, to Helena, of all places," said Steve Bostrom, who is serving as the Celebration team leader and helping to guide the planning and preparations for the Helena portion of the tour. "Too many in our region are suicidally desperate for hope. While others seek to care for their neighbor, they are hardened toward God. Still others are disappointed with life and have retreated. Will's message will resonate with many in this community—penetrating hearts and transforming lives—reconnecting people with God and each other."
Shane Etzwiler, president/CEO of the Great Falls Area Chamber of Commerce and co-team leader of the Big Sky Celebration in Great Falls, added, "The upcoming Big Sky Celebration with Will Graham will be a game-changer for people and their families in Great Falls and the surrounding area for many, many years to come! There is a need in the entire area for people to hear the Gospel message of hope and relief from many of the oppressive and daily challenges they are facing."
A nearly continuous stream of activities and planning will take place across the region between now and the tour in September, including prayer rallies, workshops and community gatherings. Visit BigSkyCelebration.com for details.
Graham's plan for Montana follows in the footsteps of his father and grandfather, who have both hosted outreaches in the state. Franklin Graham held multi-day evangelistic rallies in Bozeman and Helena in 1995, and then spoke in Helena as part of his 50-state Decision America Tour in 2016. Billy Graham preached a one-day Crusade in Billings on June 24, 1987.
In addition to the Big Sky Celebration, Graham's 2019 schedule includes outreaches in Hawaii, Albania and Canada. In 2018, he held the Tri-Cities Celebration in Johnson City, Tenn., and international campaigns in Scotland, Australia, Thailand and Canada. Graham also serves as the executive director of the Billy Graham Training Center at The Cove in Asheville, N.C., and as vice president of the Billy Graham Evangelistic Association in Charlotte, N.C.
About the Billy Graham Evangelistic Association (BGEA):
From its headquarters in Charlotte, N.C., the Billy Graham Evangelistic Association directs a wide range of domestic and international ministries. For more information, please visit www.BillyGraham.org. Get BGEA news updates on Twitter at www.Twitter.com/BGEANews.