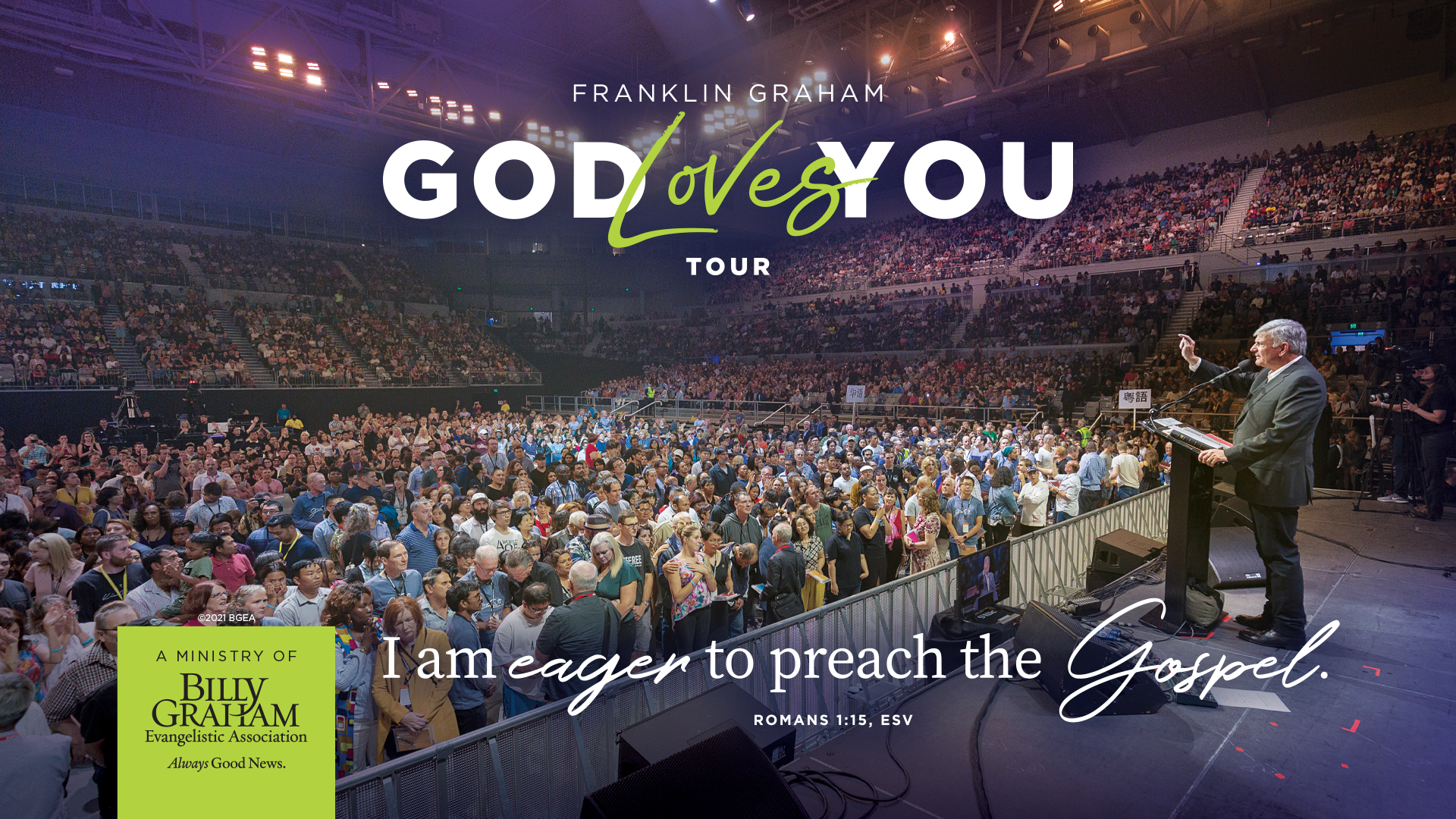 Tour will visit Liverpool, South Wales, Sheffield and London
Revd Franklin Graham and Christians from more than 2,000 churches across the United Kingdom are working together to bring the God Loves You Tour to the UK next month. The family-friendly events, featuring live music and a message of hope, are free and everyone is welcome.

"I'm coming to the United Kingdom to share one simple message—God loves the people of the UK," said Franklin Graham, president and CEO of the Billy Graham Evangelistic Association. "This Good News has the power to change your life forever, and that's why my father preached this same message here over the course of more than three decades."

Many people are partnering with Franklin Graham for this outreach because they believe the hope-filled message of the Bible needs to be shared in their communities.

"If ever the UK needed the message of the Good News of Jesus Christ, it is now! The nation has been gripped with sorrow and the pain of loss. Many have lost hope and they are filled with anxiety and worry over the direction the world is heading," said Revd Paul James, senior pastor of Harrow International Christian Centre in London. "The answer can only be found in Jesus Christ. We desperately need the God Loves You Tour, and we look forward to hearing Franklin Graham share the most important message the world will ever hear."
The God Loves You Tour will feature award-winning musical guests. Grammy-nominated, platinum-selling Newsboys, who have had 33 #1 radio hits, will join the tour for first three events, and CeCe Winans and Michael W. Smith will perform at the final stop in London. Smith has been honoured with three Grammys, and Winans is a 15-time Grammy winner and the best-selling female Gospel artist of all time.
DATES AND LOCATIONS FOR THE 2022 GOD LOVES YOU TOUR – UK
Liverpool: 14 May – Exhibition Centre
South Wales: 21 May – ICC Wales (Newport)
Sheffield: 25 May – Sheffield Arena
London: 16 July – ExCeL London
To learn more information about the four-city tour, visit GodLovesYouTour.org.uk.
Ends
Notes to Editors
Media Contact
For interview requests or media inquiries please contact Emily Phillips at E: emily.phillips@bgea.org.uk. T: 07702 565199
Media Opportunities
Franklin Graham will be available for interviews. To request an interview or download b-roll and photos, visit https://media.billygraham.org/god-loves-you-tour-uk.
About The Billy Graham Evangelistic Association
Founded by Billy Graham in 1950, the Billy Graham Evangelistic Association (BGEA) shares the Good News of Jesus Christ around the world. Billy Graham had a profound love and appreciation for the United Kingdom, and he established BGEA's UK office in London in 1954. Mr. Graham went on to preach in the UK more than any other place outside of the United States.
About Franklin Graham
Franklin Graham is continuing the lifelong work of his father. Since his first evangelistic event with BGEA in 1989, he has held more than 275 outreaches in over 50 countries, including three events in the United Kingdom. Franklin Graham shared the hope of the Gospel in Perth, Scotland in 1999; Belfast, Northern Ireland in 2008; and Blackpool, England in 2018. In addition to serving as president and CEO of BGEA, Franklin Graham also leads Samaritan's Purse, an international Christian relief and development organisation, which has had an office in the UK since 1990.