Six-city tour will bring live music and life-changing message of hope to Allentown, Pennsylvania, on Sept. 24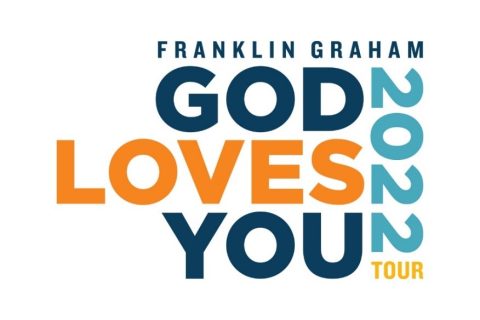 CHARLOTTE, N.C., Aug. 25, 2022 — Franklin Graham is sharing a message of God's love in six cities stretching across 1,000 miles this fall, and to kick off the opening night of the five-state tour, he's holding an evening of music and hope in Allentown.
"I believe this is where our nation's backbone of hard work, grit, and determination lies, but so many people in our country are struggling. They're looking for hope, peace, and purpose in their lives," said Franklin Graham, president and CEO of the Billy Graham Evangelistic Association. "We're coming to remind everyone there is Good News! God loves us, and He sent His Son Jesus Christ to earth to save us from our sins."
On Sept. 24, Graham will launch God Loves You Tour 2022 in Allentown. The festive, family-friendly event is free and everyone is invited to attend. It begins at 6:30 p.m. at the Allentown Fairgrounds.
The tour is an outreach of the Billy Graham Evangelistic Association (BGEA), and a network of more than 175 churches and pastors in the Allentown area are partnering with BGEA because they believe the powerful message of the Bible needs to be shared in their community.
Randy Landis, founding and senior pastor of Life Church in Allentown, said,"Despite a global pandemic, economic challenges, and a war overseas, we believe the future continues to be bright because of the hope that's only found in Jesus Christ." Jon Schwartz, executive pastor of Life Church, continued saying,"We can't wait to see hope rise in the hearts of Allentownians and surrounding community members through the God Loves You Tour, Franklin Graham, Newsboys, and Marcos Witt."
One of the most influential bands in Christian music history, Newsboys, is joining the tour, and they will perform live at each event. Newsboys have had 33 No. 1 radio hits, four Grammy nominations and two American Music Award nominations. Marcos Witt is also performing live on the tour. He's one of the most iconic Spanish-speaking Christian music artists in the world, and he has received five Latin Grammys and two Billboard awards. Award-winning musician Dennis Agajanian, who has performed at Billy Graham and Franklin Graham's evangelistic events for more than 45 years, will also be joining the tour.
Following the opening night in Allentown, the tour will continue across the U.S. with stops in York, Pennsylvania; Youngstown, Ohio; Flint, Michigan; Waukesha, Wisconsin; and Rochester, Minnesota.
To learn more about the God Loves You Tour 2022, visit GodLovesYouTour.com.

DATES AND LOCATIONS
Allentown, Pennsylvania (Sept. 24)
York, Pennsylvania (Sept. 25)
Youngstown, Ohio (Sept. 27)
Flint, Michigan (Sept. 29)
Waukesha, Wisconsin (Oct. 1)
Rochester, Minnesota (Oct. 2)
MEDIA OPPORTUNITIES
Founded by Billy Graham in 1950, the Billy Graham Evangelistic Association shares the Good News of Jesus Christ around the world. Franklin Graham is continuing the lifelong work of his father, and he has devoted his life to proclaiming the Gospel. His first evangelistic event was held in 1989, and since then he has continued to share a message of God's love at hundreds of outreaches throughout the United States and around the world. This year, Graham has shared the Good News in four cities across the United Kingdom and Rio de Janeiro, Brazil. Later this year, he will preach in Ulaanbaatar, Mongolia; Milan, Italy; and three cities in New Zealand.

BGEA's Online Newsroom
-30-