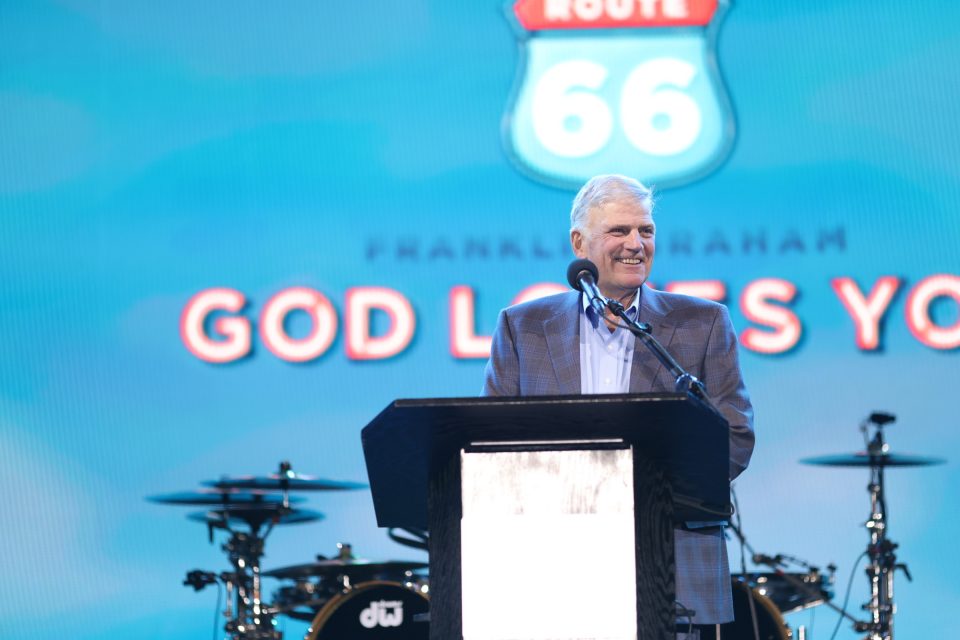 SAN BERNARDINO, Calif., Oct. 2, 2021 — At a time when many people are experiencing fear, uncertainty, and hopelessness, the God Loves You Tour has traveled 2,000 miles along Route 66 and Franklin Graham has shared a Gospel message in eight cities along the historic highway. More than 55,000 people attended the free evenings of music and hope that started in the Chicago area two weeks ago and finished in the Los Angeles metro on Saturday.
Night after night, hundreds of people responded to the message of God's love. In all, more than 4,500 people indicated they made decisions for Jesus Christ. In the eight cities Graham visited, people from more than 1,400 churches worked with the God Loves You Tour out of a desire to see the Good News shared in their communities. Those churches are now following up with the thousands of people who responded to the Gospel invitation.
"Times change, culture changes, but people's need for a relationship with God through His Son, Jesus Christ, doesn't change," said Franklin Graham, president of the Billy Graham Evangelistic Association. "With all the bad news around us day in and day out, people need hope. I want people along Route 66—and the rest of this nation—to know that God loves them."

During the tour that ran from Sept. 19 to Oct. 2, Graham was joined by Grammy-nominated, platinum-selling Newsboys, five-time Latin Grammy-winner Marcos Witt, and award-winning guitarist Dennis Agajanian.
MEDIA OPPORTUNITIES
Download high quality photos of the tour
DATES AND LOCATIONS FOR ROUTE 66 GOD LOVES YOU TOUR
Joliet, Illinois (Sept. 19)
St. Louis, Missouri (Sept. 21)
Springfield, Missouri (Sept. 23)
Oklahoma City, Oklahoma (Sept. 25)
Amarillo, Texas (Sept. 26)
Albuquerque, New Mexico (Sept. 28)
Flagstaff, Arizona (Sept. 30)
San Bernardino, California (Oct. 2)
ABOUT THE BILLY GRAHAM EVANGELISTIC ASSOCIATION AND FRANKLIN GRAHAM
The Route 66 God Loves You Tour was an outreach of BGEA, which has proclaimed the Gospel in 185 countries around the world since it was founded by Billy Graham in 1950. Franklin Graham was appointed president of BGEA in 2001, and he has shared the Gospel message at 198 evangelistic events in 50 states and U.S. territories, and 49 countries since 1989.
-30-