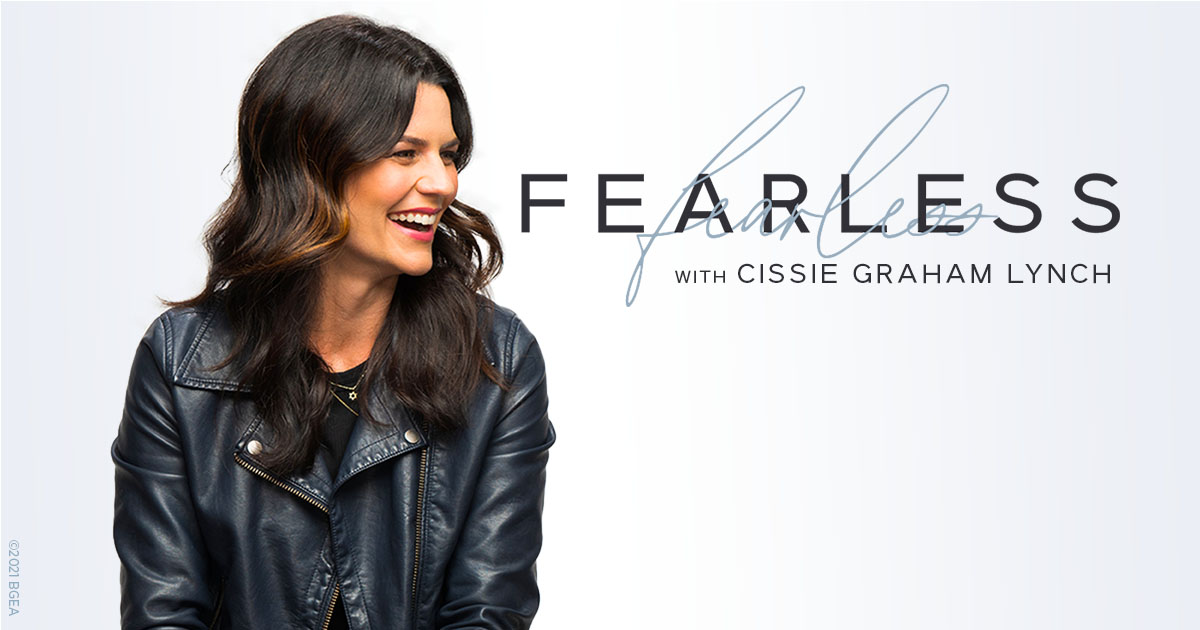 CHARLOTTE, N.C., June 10, 2021 – The 50th episode of Fearless with Cissie Graham Lynch released this week, marking two years since the podcast's launch. Through the podcast, Cissie Graham Lynch shares practical, Biblical insight on current cultural issues to encourage listeners to live out their faith.
With episode subject matter ranging from homosexuality and the church, the Equality Act, and Critical Race Theory to abortion, addiction, and the reopening of schools following the COVID-19 pandemic, Lynch has covered a wide variety of topics that are relevant to those looking at real-world issues. In episode 50, Lynch continues her Legacy Series – the fourth installment of lessons she has learned from watching her father, Franklin Graham, and grandfather, Billy Graham, in private and public ministry.
In addition to sharing personal stories from her own life, Lynch has welcomed guests from many walks of life to share their expertise on current events. Fearless with Cissie Graham Lynch encourages listeners to explore Scripture for themselves and challenges them to stand boldly for the Gospel of Jesus Christ – to have a fearless faith in a compromising culture.
"I wanted this podcast to be a place where people could be encouraged; where they could be emboldened," said Lynch reflecting on the last two years. "I want people to know what they believe and why they believe it. I want them, ultimately, to be fearless in their communities wherever God has put them.
One of the most important lessons I learned from my parents and my grandparents was to never compromise my beliefs because of what the world says. I want to help people navigate these tough issues and to give them practical ways to live out their faith in truth and love and to be unapologetic and fearless in a world that is forever compromising."
The Fearless podcast is one of several audio offerings from the Billy Graham Evangelistic Association, including GPS: God. People. Stories., Billy Graham Minute, and The Billy Graham Channel on SiriusXM, as well as the Billy Graham Audio Archives of more than 1,500 sermons, messages, and comments from Billy Graham spanning seven decades.
Fearless is available for streaming and download through the Billy Graham app, as well as through Apple Podcasts, Spotify, Google Podcasts and other podcast aggregators, and can be streamed directly at cissiegrahamlynch.com. Listeners can also follow facebook.com/BillyGrahamRadio for regular updates and programs.
About Cissie Graham Lynch
Since 2010, Cissie Graham Lynch has worked as part of the Billy Graham Evangelistic Association and Samaritan's Purse in various capacities, currently serving as a senior advisor and ministry spokesperson. As host of the podcast Fearless with Cissie Graham Lynch: Fearless Faith in a Compromising Culture, Cissie encourages people to speak boldly on issues including life, family, and faith. Cissie and her husband Corey, live in Southwest Florida, with their two children. Follow Cissie on social media at facebook.com/CissieGrahamLynch, instagram.com/cissiegrahamlynch, twitter.com/cissieglynch, and youtube.com/user/cissiglynch.
About the Billy Graham Evangelistic Association
The Billy Graham Evangelistic Association (BGEA) proclaims the Gospel of the Lord Jesus Christ throughout the world by every effective means available. From its headquarters in Charlotte, North Carolina, the BGEA directs a wide range of domestic and international ministries, including: large-scale festivals led by evangelists Franklin Graham and Will Graham; the Billy Graham Library; The Billy Graham Training Center at The Cove, located outside of Asheville, North Carolina; SearchforJesus.net, an Internet evangelism project reaching thousands of people for Christ online; and many others through print, television, telephone, radio and the Internet. For more information, please visit billygraham.org. Get news updates on Twitter at twitter.com/BGEAnews.
-30-
Media Contact:
Lisa Moseley
(704) 401-2116
lmoseley@bgea.org