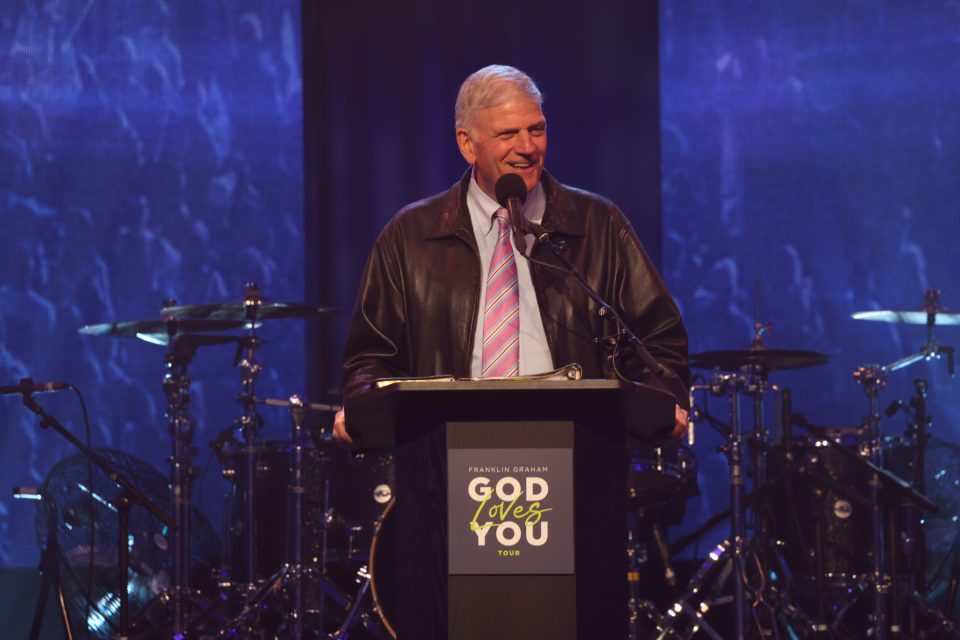 Free tour with live music will visit Christchurch, Wellington, and Auckland
Rev. Franklin Graham is coming to share a message of God's love in New Zealand, 53 years after Kiwis came together to see one of the world's most well-known evangelists, his father Billy Graham.
Franklin Graham is bringing the God Loves You Tour to the same three cities — Auckland, Wellington, and Christchurch — where his father reached a generation of Kiwis. In 1959, Billy Graham and a team of associate evangelists preached to a fifth of the nation's population, and in his last historic visit to New Zealand in 1969, Billy Graham drew the largest audience ever recorded in the country's history to a religious event.
Franklin Graham is continuing the lifelong work of his father, and he's looking forward to sharing the same simple message that his father preached here half a century ago.
"New Zealand has changed so much since my father visited this country, but the needs of the human heart haven't changed. So many people are searching, and just like my father, I want them to know that God loves them," said Franklin Graham, president and CEO of the Billy Graham Evangelistic Association. "This message of Good News is for each and every person in New Zealand — it has the power to change your life forever!"

More than 500 churches across the North and South Islands are partnering with the God Loves You Tour because they want to see the hope of the Gospel shared in their communities.

"Having worked in both government and non-profit organisations for more than 40 years, I have seen despair, loneliness, and hopelessness that has gripped our nation and stripped many of their desire to dream and push on," said Nick Tuitasi, a Pacific community leader in Auckland. "In this time of uncertainty, our nation needs an uplifting message of love and hope. The timing of Franklin Graham's God Loves You Tour is a divine appointment."

BGEA is working closely with Māori church leaders and thousands of Christians to bring the free, family-friendly events — featuring live music and a message of hope — to all Kiwis. In Christchurch, Anne Morrow, who co-founded New Life Churches New Zealand along with her husband Peter, said, "Christchurch and the surrounding regions have been through major upheavals in the last decade. Compounded by Covid, this has created a huge range of uncertainties and fearfulness, as well as a fracturing in relationships, distrust, and stress. With the rising tide of lawlessness, lovelessness, and rejection, the message that God is love and He can be trusted and experienced, is like light in the midst of chaos and darkness. Franklin Graham carries this life-changing message of hope for New Zealand — bringing healing and heart answers to the root problems."

The God Loves You Tour will feature Grammy-nominated, platinum-selling singer and songwriter, Jeremy Camp, who has had 41 #1 radio singles, and The Afters, a chart-topping Christian band that has won three Dove Awards from the Gospel Music Association.

Dates and Locations
Christchurch: 12 November – Christchurch Arena
Wellington: 16 November – TSB Arena
Auckland: 19 November – The Trusts Arena
To learn more information about the three-city tour, visit GodLovesYouTour.nz.
About the Billy Graham Evangelistic Association and Franklin Graham
Founded by Billy Graham in 1950, the Billy Graham Evangelistic Association (BGEA) shares the Gospel around the world. Billy Graham preached in Christchurch, Wellington, and Auckland in 1959; and in 1969, he returned to New Zealand to share the hope of Christ in Auckland and Dunedin. Billy Graham also had the privilege of personally knowing 13 U.S. presidents, and he offered spiritual counsel and prayer to presidents from Harry Truman to George W. Bush. His son Franklin's first evangelistic event with BGEA was in 1989, and since then, he has continued to spread the Good News through hundreds of outreaches. Earlier this year, Franklin Graham preached in Rio de Janeiro, Brazil; Ulaanbaatar, Mongolia; Milan, Italy; four cities across the United Kingdom, and six cities across the United States. Next year, he will preach in Mexico City; Ho Chi Minh City, Vietnam; Krakow, Poland; Seoul, South Korea; Essen, Germany; the United Kingdom; and the United States.

Ends

Notes to Editors
Media Opportunities
Convergence Communications
03 365 0081
media@conv.co.nz