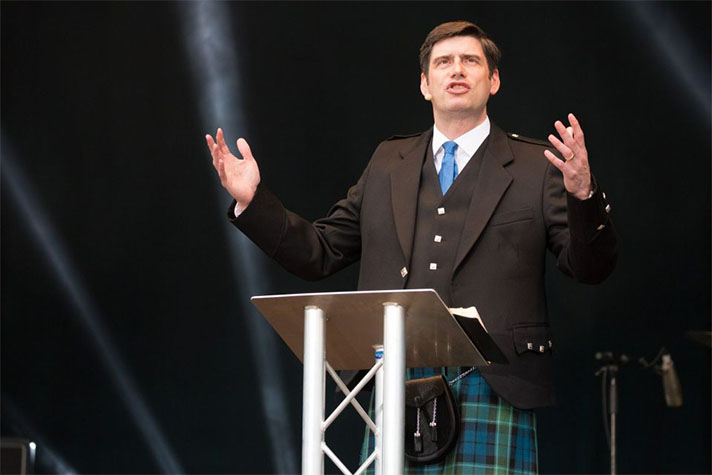 FALKIRK, Scotland, June 20, 2018–Falkirk, Scotland, is an historic city, situated equidistant between Edinburgh and Glasgow. Though many around the world may recognize the name because of the legendary battles fought there by William Wallace more than seven centuries ago, last weekend it was the site of something quite different as evangelist Will Graham visited the city to proclaim the hope of Jesus Christ.
The Central Scotland Will Graham Celebration of Hope was held June 15-17, 2018, at Falkirk Stadium.
"Jesus is different than anyone else in human history. Jesus never sinned. He brought people back to life. He healed on the spot. He restored sight to the blind. And He's the only One who died for your sins," said Graham during one of the weekend's four evangelistic services. "Jesus Christ isn't dead. He's alive today, and He wants to come into your life!"
A total of 9,533 people attended the weekend-long outreach, and more than 700 people responded to the invitation to make a commitment to Christ. Thousands more, representing dozens of countries around the world, watched the messages via web stream and Facebook Live.
Graham was joined on-stage for the Central Scotland Will Graham Celebration of Hope by award-winning Christian artists the Newsboys, The Afters and Aaron Shust. A special Saturday morning event for children called KidzFest was headlined by Duggie Dug Dug.
"It's been an awesome weekend. It's just been fantastic to see all these people coming forward. We believe that people will come to realize that God is alive in Scotland," said Pastor Michael Rollo of Found Church, who served as the local leader of the effort after being instrumental in inviting Graham to Falkirk. "We believe that the churches will be encouraged through all that has happened this weekend. It's just been fantastic."
The Central Scotland Will Graham Celebration of Hope concludes three straight months of events that took Graham to three different continents. He held the Tri-Cities Region Will Graham Celebration in Johnson City, Tenn., April 27-29, and then the Goldfields Celebration with Will Graham in Kalgoorlie, Australia, May 18-20. Later this year he will hold multi-day outreaches in Canada and Thailand.
About Will Graham: Will is the third generation of Grahams to proclaim the Gospel of Jesus Christ under the banner of the Billy Graham Evangelistic Association (BGEA). He is the grandson of Billy Graham and the oldest son of Franklin Graham. Will has spoken to audiences on six continents since beginning his evangelistic ministry in 2006.