The true meaning of Christmas – the birth of Jesus Christ – remains the focus of the annual Christmas at the Library, Nov. 29-Dec. 23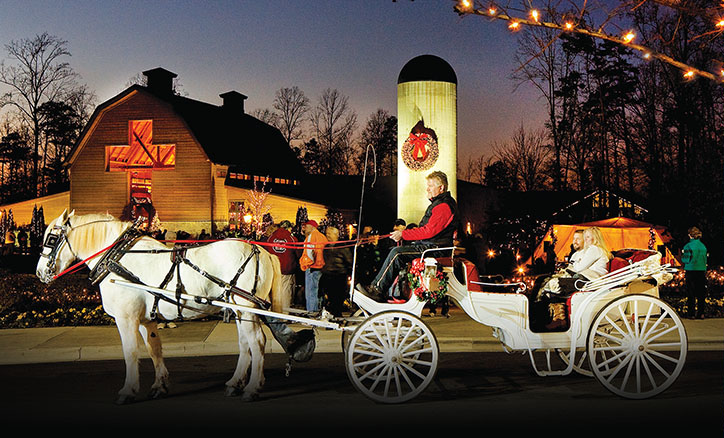 CHARLOTTE, N.C., Nov. 29, 2021—A trip to the Billy Graham Library has become an annual Christmas tradition for many, as thousands from across the Carolinas and the Southeast visit the Christ-centered Christmas at the Library celebration each year. More than 468,000 have experienced this wonderful season at the Billy Graham Library since 2007. The 14th annual Christmas at the Library runs Monday through Saturday, Nov. 29-Dec. 23, 2021.
"The Good News of Christmas is a message that is offered to everyone," said Franklin Graham, president and CEO of the Billy Graham Evangelistic Association. "God so loved the world that He gave His one and only Son, that whoever believes in Him shall not perish but have everlasting life (John 3:16). This is what Christmas is all about, and it is the message of hope that we are sharing at the Billy Graham Library. Jesus Christ came to this earth on a rescue mission to save us from our sins, and everyone who puts their faith in Him can be forgiven and have a right relationship with God."
Those who come to Christmas at the Library at the Billy Graham Library each year experience the retelling of the birth of Jesus Christ, complete with a live Nativity depicting the very first Christmas night. Guests can also enjoy holiday favorites including horse-drawn carriage rides; Christmas story time for children; live music from carolers; a beautiful light display; a large, ornamented Christmas tree; holiday shopping and more. Live Nativity animals for 2021 include a camel, a donkey, sheep, goats, a Zebu cow and a llama.
The Library's operating hours during Christmas at the Library are Monday through Thursday, 9:30 a.m.-9 p.m., and Friday and Saturday, 9:30 a.m.-10 p.m. Christmas activities begin at 5 p.m. each evening. The Library is closed on Sundays. Admission and parking at the Library is free. Reservations are required for Christmas at the Library activities. Visit www.billygrahamlibrary.org for more information.
Other Announcements:
The Billy Graham Library will be closed to the public beginning Dec. 27 through late spring 2022 while we create an exciting new experience including redesigned exhibits, a new coffee bar, and expanded opportunities for guests to discover the message Billy Graham preached for more than 70 years.
About The Billy Graham Library
The Billy Graham Library opened in 2007 and has since had more than 1.6 million visitors from around the world. Admission to the Library and The Journey of Faith is free. For more information on the Library and upcoming events, or to schedule a group tour, please visit www.billygrahamlibrary.org. You can also stay connected with the Billy Graham Library on these social media sites: Facebook, Twitter and Instagram; and on the Library blog.
-30-
MEDIA INFORMATION:
Media are invited to cover Christmas at the Library. To schedule a date and time, please contact: Lisa Moseley at lmoseley@bgea.org or call (704) 401-2116.
*An online press kit with downloadable graphics, photos and video b-roll is available at https://bg.vault.theark.cloud/url/christmasatthelibrary.