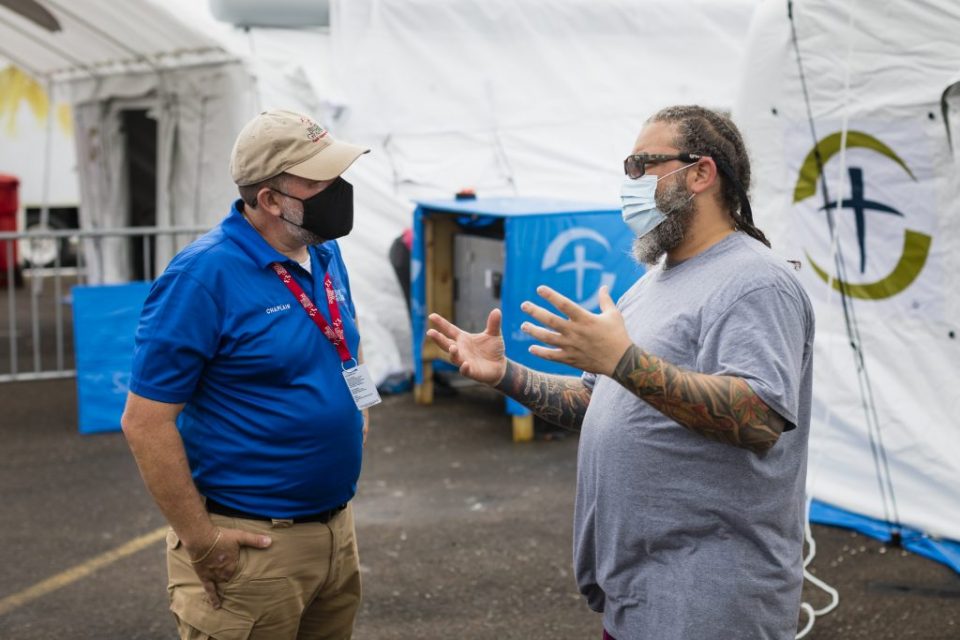 CHARLOTTE, N.C., Oct. 15, 2020 – The Billy Graham Rapid Response Team (RRT), a crisis-chaplaincy ministry of the Billy Graham Evangelistic Association, is sending chaplains to Nassau, Bahamas. They will serve in conjunction with the Samaritan's Purse Emergency Field Hospital that is being set up at the request of the Bahamian Prime Minister to treat COVID-19 patients.
There are more than 2,000 active COVID cases across the Bahamian islands, overwhelming the local hospitals.
"After Hurricane Dorian, we sent more than 100 crisis-trailed chaplains to four locations across the Bahamas. We consider it a blessing for our chaplains to return to the islands to serve alongside Samaritan's Purse with the opportunity to share the hope found in Jesus Christ with the doctors, nurses, and the community," said Josh Holland, assistant director of the RRT. "These coronavirus deployments are groundbreaking and different than anything we have done before. We have deployed to more than 450 natural and man-made disasters, but until this year we had never responded to a health crisis."
RRT chaplains also served at Emergency Field Hospitals that were set up in Cremona, Italy, New York City, and the Navajo Nation during the coronavirus pandemic. Chaplains are currently serving alongside Samaritan's Purse at four sites in Louisiana after hurricanes Laura and Delta caused widespread destruction in the area, Foley, Alabama, after Hurricane Sally, and Jackson County, Oregon, as wildfires have destroyed many homes.
For more information on the ministry, including videos, photos, news articles and an interactive map of former and current deployments, visit BillyGraham.org/RRT. Updates can also be found at Facebook.com/RRTChaplains.
About the Billy Graham Rapid Response Team:
The Billy Graham Rapid Response Team was developed by Franklin Graham and the Billy Graham Evangelistic Association following the attacks of Sept. 11, 2001. It has since grown into an international network of chaplains in the U.S., U.K., Canada and Australia who are specifically trained to deal with crisis situations. They have deployed to more than 450 disaster sites across the globe, including shootings, floods, hurricanes, wildfires and tornadoes.
– 30 –