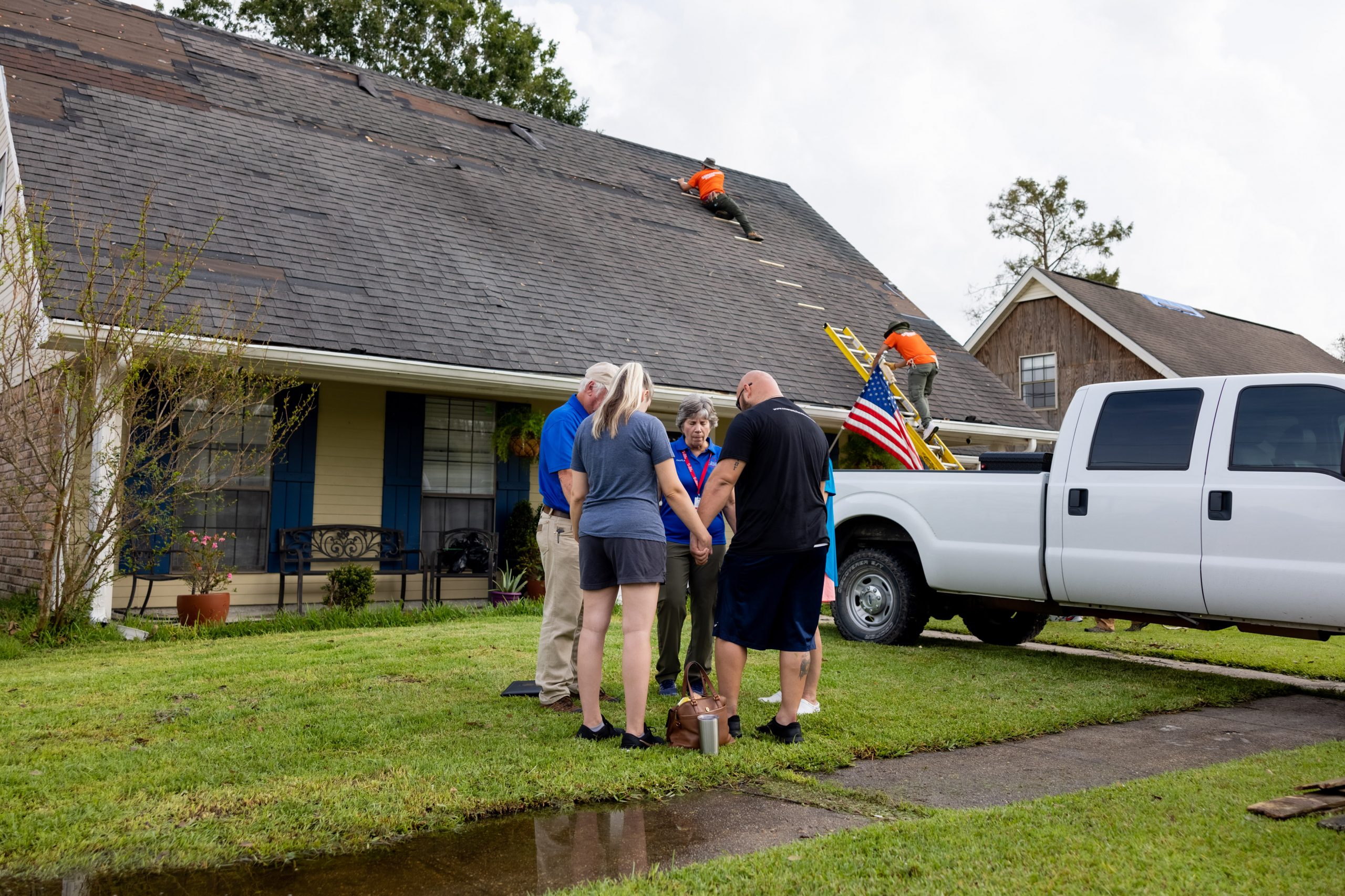 CHARLOTTE, N.C., Sept. 1, 2021 – The Billy Graham Rapid Response Team (BG-RRT) is deploying crisis-trained chaplains to provide emotional and spiritual care alongside Samaritan's Purse at three locations in Louisiana; Houma, greater New Orleans and the Northshore area of Lake Pontchartrain after Hurricane Ida made landfall over the weekend.
Hitting the coast of Louisiana as a Category 4 hurricane, Ida packed 150 mph winds and the storm surge caused significant flooding. An estimated 2 million people across the state, including the entire city of New Orleans, were without power as the storm rolled through. Ida's landfall came 16 years to the day after Hurricane Katrina devastated New Orleans and surrounding areas.
"The scope of the devastation is more than we can imagine. People's lives and futures have been literally washed away. This storm affects so many areas of life and causes so much uncertainty. Down there, everything about their lives is now in question as homes and businesses have been destroyed leaving people with nowhere to go and no jobs to return to," said Jack Munday, international director of the BG-RRT. "With all that—and we say it a lot—the hope of the Gospel is needed to bring hope and peace in the midst of this uncertainty and fear. After Hurricane Katrina we saw God do that. Over 33 months of deployment we saw day after day as people accepted Christ and found the peace that passes all human understanding."
In addition to the three new deployments after Ida, BG-RRT chaplains are currently serving at six other disaster sites; Waverly, Tennessee (flooding); Plumas County, California (wildfires); Haywood County, North Carolina (flooding); Les Cayes, Haiti (earthquake); Jackson, Mississippi (coronavirus); and Metro Detroit, Michigan (flooding).
For more information on the ministry, including videos, photos, news articles and an interactive map of former and current deployments, visit the BG-RRT press kit or BillyGraham.org/RRT. Updates can also be found at Facebook.com/RRTChaplains.
About the Billy Graham Rapid Response Team:
The Billy Graham Rapid Response Team was developed by Franklin Graham and the Billy Graham Evangelistic Association following the attacks of Sept. 11, 2001. It has since grown into an international network of chaplains in the U.S., U.K., Canada and Australia who are specifically trained to deal with crisis situations. They have deployed to more than 550 disaster sites across the globe, including shootings, floods, hurricanes, wildfires and tornadoes.
– 30 –
Media Contact:
Blake Freeland
bfreeland@bgea.org