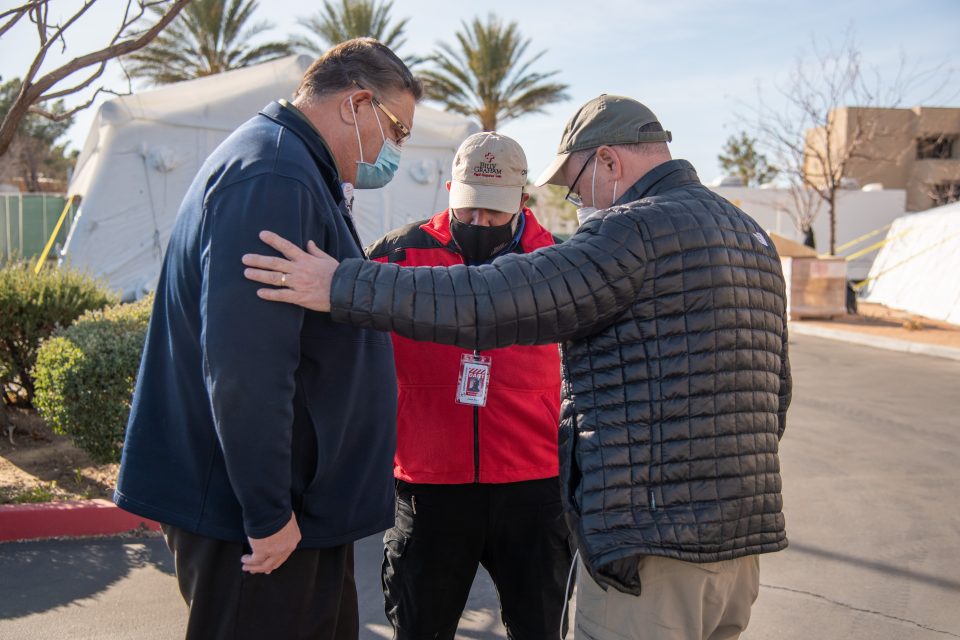 CHARLOTTE, N.C., Jan. 11, 2021 – For the second straight week, Billy Graham Rapid Response Team (BG-RRT) chaplains have deployed to provide emotional and spiritual support at a Samaritan's Purse Emergency Field Hospital that is being set up to treat coronavirus patients. The latest deployment is to Lancaster, California, where a person is dying from coronavirus every eight minutes.
"As the state of California struggles with a surge in positive COVID-19 cases, our prayers are with all of those who are impacted by this virus," said Josh Holland, assistant director of the BG-RRT. "We have a long history of deployments in California—mainly for wildfires that have devastated the state—and now we are sending a team of crisis-trained chaplains who will be available to provide emotional and spiritual support not only to those healthcare workers on the front lines of this battle against the coronavirus, but to the community at large."
Set up in the parking lot of the Antelope Valley Hospital, the Lancaster field hospital will have more than 50 beds, and is expected to be ready to receive patients later in the week.
In addition to having chaplains serving at Emergency Field Hospitals in North Carolina and California, BG-RRT chaplains continue to serve in Lake Charles and DeQuincy, Louisiana, where they have been deployed since the fall as the Gulf of Mexico was devastated by multiple hurricanes during one of the worst hurricane seasons in history.
For more information on the ministry, including videos, photos, news articles and an interactive map of former and current deployments, visit the RRT press kit or BillyGraham.org/RRT. Updates can also be found at Facebook.com/RRTChaplains.
About the Billy Graham Rapid Response Team:
The Billy Graham Rapid Response Team was developed by Franklin Graham and the Billy Graham Evangelistic Association following the attacks of Sept. 11, 2001. It has since grown into an international network of chaplains in the U.S., U.K., Canada and Australia who are specifically trained to deal with crisis situations. They have deployed to more than 450 disaster sites across the globe, including shootings, floods, hurricanes, wildfires and tornadoes.
– 30 –