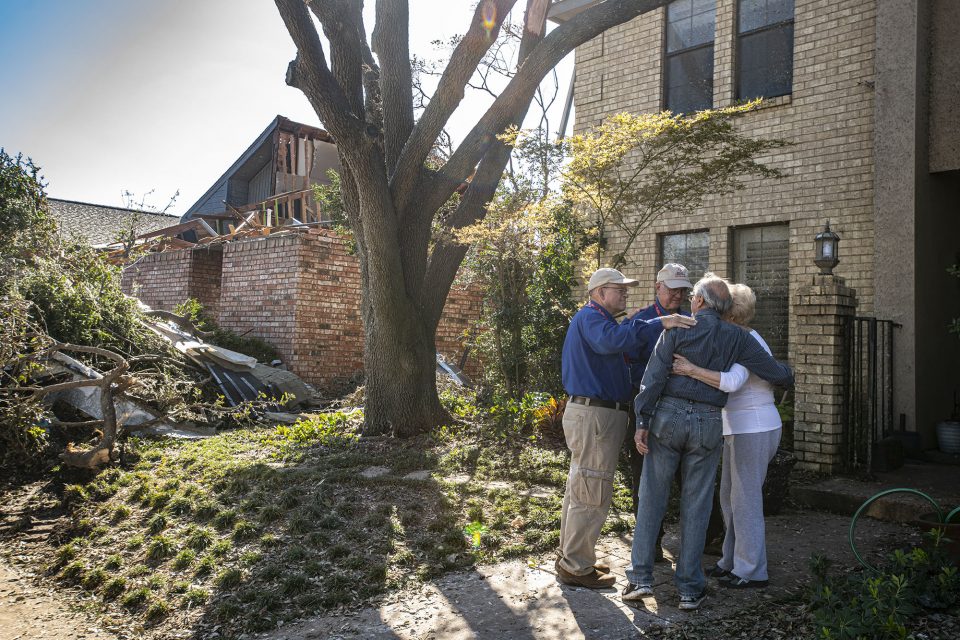 CHARLOTTE, N.C., Oct. 22, 2019 – Billy Graham Rapid Response Team (RRT) chaplains have deployed to Dallas, Texas, following severe storms and a damaging tornado Sunday night.
Multiple tornadoes were reported, the biggest of which—categorized as an EF-3 with winds of 140 mph—touched down near Love Field Airport and was on the ground for nearly 40 minutes, destroying homes and leaving at least 55,000 people without power.
"Although we thank God that there was no loss of life from this tornado, we are saddened that many people's lives have been significantly impacted by the destruction left in its wake," said Josh Holland, assistant director of the RRT. "We are praying for each family affected and our chaplains are blessed to be able to share the comfort and love of Jesus Christ to those who have lost so much."
The deployment to Dallas marks the fifth active deployment for the RRT as chaplains are also serving in two locations—Freeport and Man-O-War—in the Bahamas after Hurricane Dorian; Vidor, Texas, due to flooding from Tropical Storm Imelda; and Rockport/Pearland, Texas, as the area continues to rebuild following Hurricane Harvey's devastation in 2017.
For more information on the ministry, including videos, photos, news articles and an interactive map of former and current deployments, visit BillyGraham.org/RRT. Updates can also be found at Facebook.com/RRTChaplains.
About the Billy Graham Rapid Response Team:
The Billy Graham Rapid Response Team was developed by Franklin Graham and the Billy Graham Evangelistic Association following the attacks of Sept. 11, 2001. It has since grown into an international network of chaplains in the U.S., U.K., Canada and Australia who are specifically trained to deal with crisis situations. They have deployed to more than 400 disaster sites across the globe, including shootings, floods, hurricanes, wildfires and tornadoes.
– 30 –
Media Contact:
Blake Freeland
704-401-2124
bfreeland@bgea.org