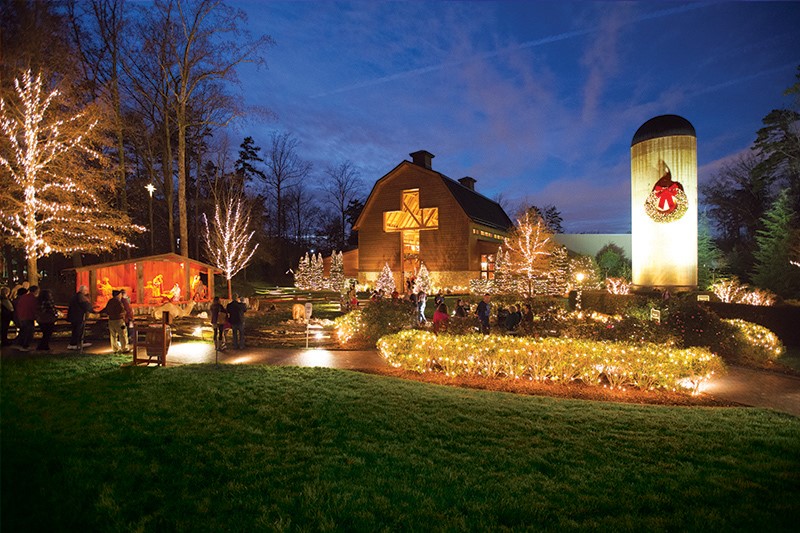 The true meaning of Christmas ― the birth of Christ ― remains the focus of the 13th annual Christmas at the Library
CHARLOTTE, N.C., Nov. 25, 2020 – Christmas at the Library has become an annual tradition for many, with more than 450,000 celebrating this wonderful season at the Billy Graham Library since its opening in 2007. With social distancing precautions in place, including reservations required to limit nightly attendance, thousands of visitors are anticipated this year for the 13th annual Christmas at the Library, which runs Monday through Saturday, Nov. 30-Dec. 23.
"For more than 80 years, Billy Graham preached on the cross," said Scott Holmquist, executive director of the Billy Graham Library. "The cross wouldn't exist without the manger. At Christmas at the Library, we'll celebrate the gift of Jesus Christ to the world through the salvation He offers all people by His death on the cross and resurrection."
People from across the Southeast and the U.S. come to Christmas at the Library at the Billy Graham Library each year to experience the retelling of the birth of Jesus Christ, complete with a live Nativity depicting the very first Christmas night. Guests can also enjoy holiday favorites including horse-drawn carriage rides; Christmas story time for children; live music from carolers; a beautiful light display; a large, ornamented Christmas tree; holiday shopping and more. Live Nativity animals for 2020 include: a camel, a goat, a donkey, sheep, and a kangaroo.
The Library's operating hours during Christmas at the Library are Monday through Thursday, 9:30 a.m.-9 p.m., and Friday and Saturday, 9:30 a.m.-10 p.m. Christmas activities begin at 5 p.m. each evening. The Library is closed on Sundays. Admission and parking at the Library is free. Reservations are required for Christmas at the Library activities. Visit www.billygrahamlibrary.org for more information.
About The Billy Graham Library
The Billy Graham Library opened in 2007 and has since had more than 1.5 million visitors from around the world. Admission to the Library and The Journey of Faith is free. For more information on the Library and upcoming events, or to schedule a group tour, please visit www.billygrahamlibrary.org. You can also stay connected with the Billy Graham Library on these social media sites: Facebook, Twitter and Instagram; and on the Library blog.
-30-
MEDIA INFORMATION:
A special media preview of the Billy Graham Library grounds will take place on Monday, Nov. 30, at 1 p.m.
MEDIA OPPORTUNITIES
Interviews with Will Graham, grandson of Billy Graham and son of Franklin Graham, vice president of the Billy Graham Evangelistic Association
Interviews with Scott Holmquist, executive director of the Billy Graham Library
Video of event (audio connections available)
Please RSVP to Lisa Moseley at lmoseley@bgea.org or call (704) 401-2116.
*An online press kit with downloadable graphics, photos and video b-roll is available at https://bg.vault.theark.cloud/url/christmasatthelibrary.