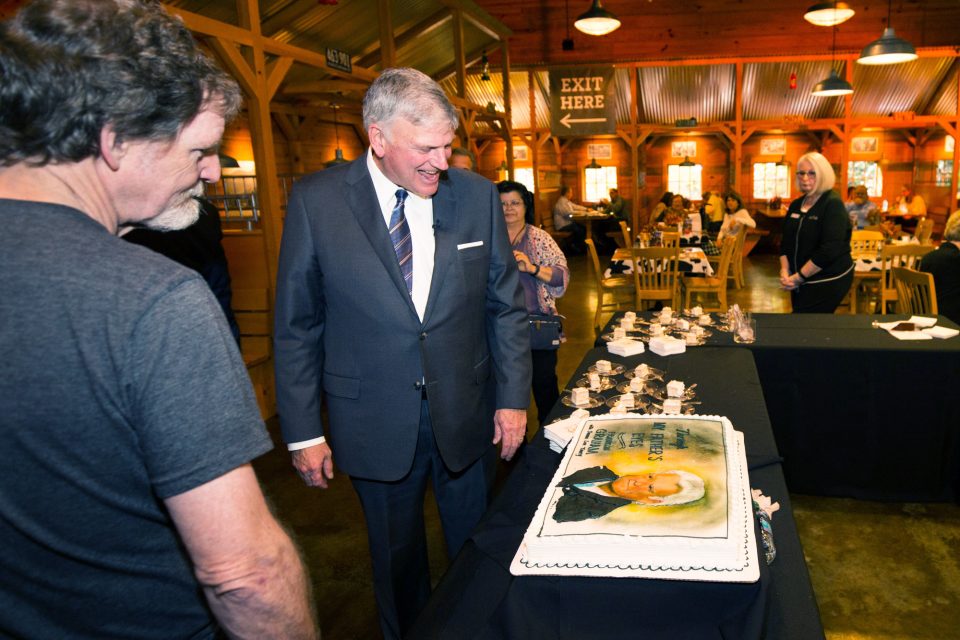 CHARLOTTE, N.C., Nov. 6, 2018—On Wednesday, Nov. 7, the Billy Graham Library will celebrate what would have been the 100th birthday of the late Rev. Billy Graham who passed away at the age of 99 in February. As part of the celebration of how God used his father to preach the Gospel around the world, Franklin Graham has invited Jack Phillips, owner of Colorado bakery Masterpiece Cakeshop, to create a custom cake to mark the milestone.
Franklin Graham has long showed his support of Phillips. "I like people who stand up for what they believe and don't back down in this world of compromise," said Graham, president and CEO of the Billy Graham Evangelistic Association, also calling for Christians to pray for Phillips and his family and voice their support to their local lawmakers.
Phillips made news in June of this year as the U.S. Supreme Court decision ruled in his favor that he was within his constitutional right to refuse to bake a cake for the wedding ceremony of a same-sex couple based on his religious beliefs that matrimony is a sacred ceremony as described in the Bible. "It's not just the cakes," said Phillips, "It's my faith." Masterpiece Cakeshop's name pays homage to one of the names of God, "The Master Artist." Phillips' ministry is through his cake artistry—he uses his bakery to share God's truth. Christian symbols and decor adorn his shop—including a stack of cards for customers which offer "The Good News of Jesus Christ."
Guests at the Billy Graham Library will receive individual pieces of cake throughout the day while supplies last. The Billy Graham Library will be open to the public from 9:30 a.m.–5 p.m.; admission and tours of The Journey of Faith are always free.
In addition to the celebration, from 2-3:30 p.m. Franklin Graham will be signing copies of his latest book, Through My Father's Eyes, which was released shortly after his father's passing. This book details Billy's remarkable life and Franklin's own journey in the way Franklin has always seen it: through his father's eyes. The book features strong Scriptural teaching, never-before-shared family stories and powerful insights on the impact a godly father can have. Books will be available for purchase in Ruth's Attic bookstore at the Library. Limit of two signed books per person (both books must be Through My Father's Eyes).
For additional information and event details, or to plan your trip to the Billy Graham Library, visit www.BillyGrahamLibrary.org.
About The Billy Graham Library
The Billy Graham Library opened in 2007 and has since had more than 1.3 million visitors from around the world. Admission to the Library and The Journey of Faith is free. For more information on the Library and upcoming events, or to schedule a group tour, please visit www.BillyGrahamLibrary.org. You can also stay connected with the Billy Graham Library on these social media sites: Facebook, Twitter and Instagram; and on the Library blog.
Media Contact
Lisa Moseley
(704) 401-2116
lmoseley@bgea.org