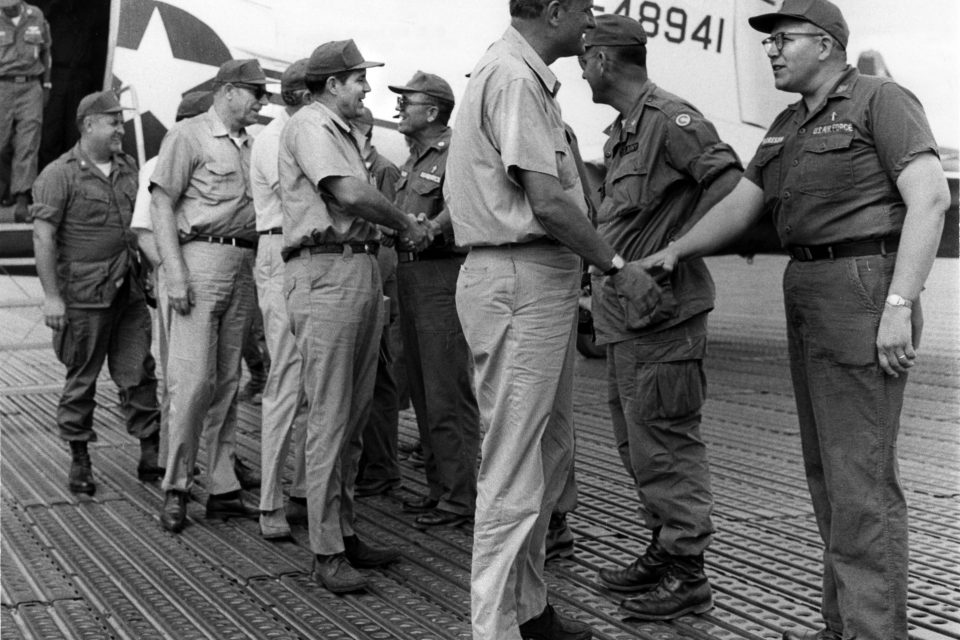 CHARLOTTE, N.C., Aug. 15, 2018—Throughout the world, throughout history, there have existed many countries in which the Gospel cannot be preached. Millions live in these countries—often torn by war—where life's circumstances leave people hopeless. In the Billy Graham TV special, "Vietnam: Rising Hope," Franklin Graham takes the Gospel to a country where his father once preached to those at war. Hear from veterans of the Vietnam War as they recall memories of the battle field; and hear how the lives of both Vietnamese natives and those who once opposed them were restored through faith after hearing the message of God's love.
"My father felt it was important to go and minister to the U.S. Military," said Franklin Graham, president and CEO of the Billy Graham Evangelistic Association. "He went to Vietnam not because he supported the war, he was going there to minister … to men that were dying on the battlefield."
In December 2017, the Billy Graham Evangelistic Association returned to Vietnam for the Hanoi Festival of Hope with Franklin Graham. "Since the war, Vietnam has been closed to the Gospel in many ways," said Graham. "God can reach people anywhere. When we see the doors that are closed and places that are impossible to go, you just keep knocking on God's door and asking Him, 'If you open up that door, I'll go.'"
Journey through the pain of war, the struggles of persecution and the unexpected challenges of ministry in this unfolding story of redemption in the Billy Graham TV program "Vietnam: Rising Hope." Watch online at https://billygraham.org/video/vietnam-rising-hope or check your local listings for broadcast dates and times, now through Sept. 9.
About the Billy Graham Evangelistic Association
The Billy Graham Evangelistic Association (BGEA) proclaims the Gospel of the Lord Jesus Christ throughout the world by every effective means available. From its headquarters in Charlotte, N.C., the BGEA directs a wide range of domestic and international ministries, including: large-scale festivals led by evangelists Franklin Graham and Will Graham; The Billy Graham Library; The Billy Graham Training Center at The Cove, located outside of Asheville, N.C.; SearchforJesus.net, an Internet evangelism project reaching thousands of people for Christ online; and many others through print, television, telephone, radio and the Internet. For more information, please visit www.billygraham.org. Get news updates on Twitter at Twitter.com/BGEAnews.
Media Contact:
Lisa Moseley
(704) 401-2116
lmoseley@bgea.org