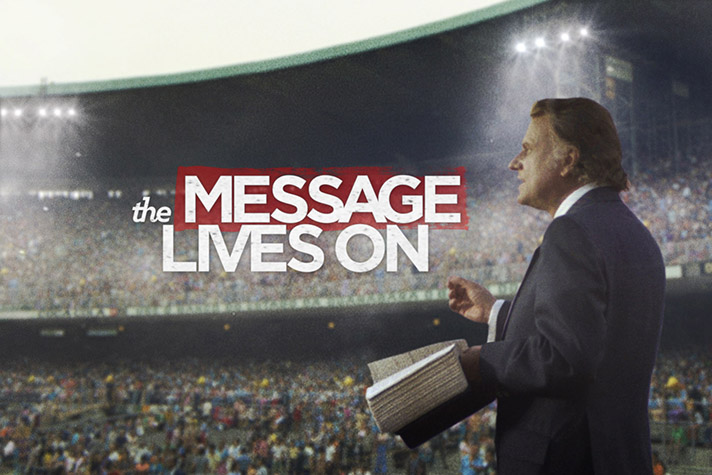 CHARLOTTE, N.C., Nov. 9, 2018—Whether in his boyhood hometown of Charlotte, N.C., or on the global stage, Billy Graham and his message remained the same. For more than 80 years, God used Billy Graham to preach the Gospel around the world with clarity and authority. But it wasn't without its challenges. Watch how this humble evangelist responded to criticism, faced his fears, and remained committed to proclaiming the truth in the new Billy Graham TV program, "The Message Lives On."
Billy Graham preached to nearly 215 million people in live audiences, more than anyone else in history. When he died in February 2018, the world once again heard the same message that he proclaimed for all those years—the message of Christ's love for all people. "The Message Lives On" explores the simplicity, the challenges, the strength and the future of the message that Billy Graham wanted to share with the whole world.
"He was an evangelist who was called to reach the Gospel," said Billy's son Franklin Graham, president and CEO of the Billy Graham Evangelistic Association. "Whatever it takes to communicate the truth of God's love, that's what we're going to do, and we're not going to back up. At the Billy Graham Evangelistic Association, we're going to keep preaching and proclaiming the Gospel of Jesus Christ."
Watch the Billy Graham TV program "The Message Lives On" online at billygraham.tv or check your local listings for broadcast dates and times, now through Dec. 2.
About the Billy Graham Evangelistic Association
The Billy Graham Evangelistic Association (BGEA) proclaims the Gospel of the Lord Jesus Christ throughout the world by every effective means available. From its headquarters in Charlotte, N.C., the BGEA directs a wide range of domestic and international ministries, including: large-scale festivals led by evangelists Franklin Graham and Will Graham; The Billy Graham Library; The Billy Graham Training Center at The Cove, located outside of Asheville, N.C.; SearchforJesus.net, an Internet evangelism project reaching thousands of people for Christ online; and many others through print, television, telephone, radio and the Internet. For more information, please visit BillyGraham.org. Get news updates on Twitter at Twitter.com/BGEAnews.
Media contact
Lisa Moseley
(704) 401-2116
lmoseley@bgea.org