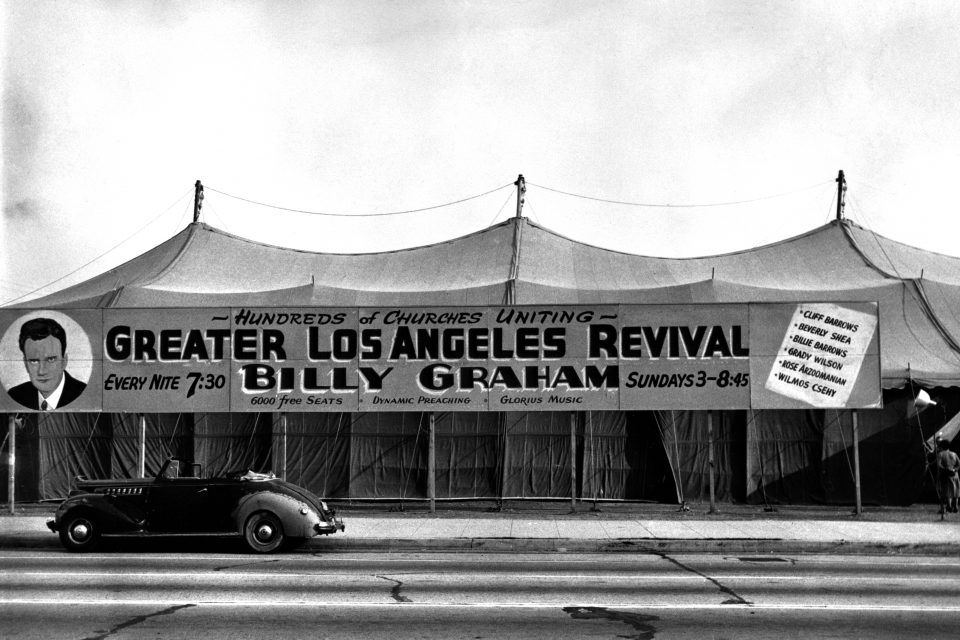 CHARLOTTE, N.C., Sept. 11, 2018 — In the new Billy Graham TV program, "Canvas Cathedral: Billy Graham's Crisis of Faith," Will Graham, grandson of Billy Graham, examines a time when his grandfather began to doubt the very faith that he preached and goes behind the scenes of an upcoming film inspired by events that took place under circus tents known as the Canvas Cathedral.
Billy Graham embarked on what would become a pivotal point in his ministry in 1949. The Los Angeles Campaign ― originally scheduled for three weeks but extended to eight due to overwhelming interest ― thrust Billy Graham into the spotlight when media tycoon William Randolph Hearst took notice, resulting in national and international news coverage. Yet, the ministry of one of the world's most well-known evangelists nearly didn't happen. Just weeks before the Los Angeles meetings, Billy Graham was struggling with whether to continue preaching at all.
"Canvas Cathedral" follows Will Graham as he takes a look at the time when his grandfather's faith was tested and shares the story of lives changed through an encounter with the truth of the Gospel. Viewers also get a glimpse behind the scenes of the Hollywood feature film "Unbroken: Path to Redemption"― a film inspired by events that took place in 1949 in the Los Angeles Campaign's Canvas Cathedral ― as Will Graham shares his experience of playing the role of his grandfather, Billy Graham.
Watch the Billy Graham TV program "Canvas Cathedral: Billy Graham's Crisis of Faith" online at https://billygraham.org/video/the-canvas-cathedral/ or check your local listings for broadcast dates and times, now through Oct. 28.
About the Billy Graham Evangelistic Association
The Billy Graham Evangelistic Association (BGEA) proclaims the Gospel of the Lord Jesus Christ throughout the world by every effective means available. From its headquarters in Charlotte, N.C., the BGEA directs a wide range of domestic and international ministries, including: large-scale festivals led by evangelists Franklin Graham and Will Graham; The Billy Graham Library; The Billy Graham Training Center at The Cove, located outside of Asheville, N.C.; SearchforJesus.net, an Internet evangelism project reaching thousands of people for Christ online; and many others through print, television, telephone, radio and the Internet. For more information, please visit www.billygraham.org. Get news updates on Twitter at Twitter.com/BGEAnews.
FOR IMMEDIATE RELEASE
Lisa Moseley
(704) 401-2116
lmoseley@bgea.org