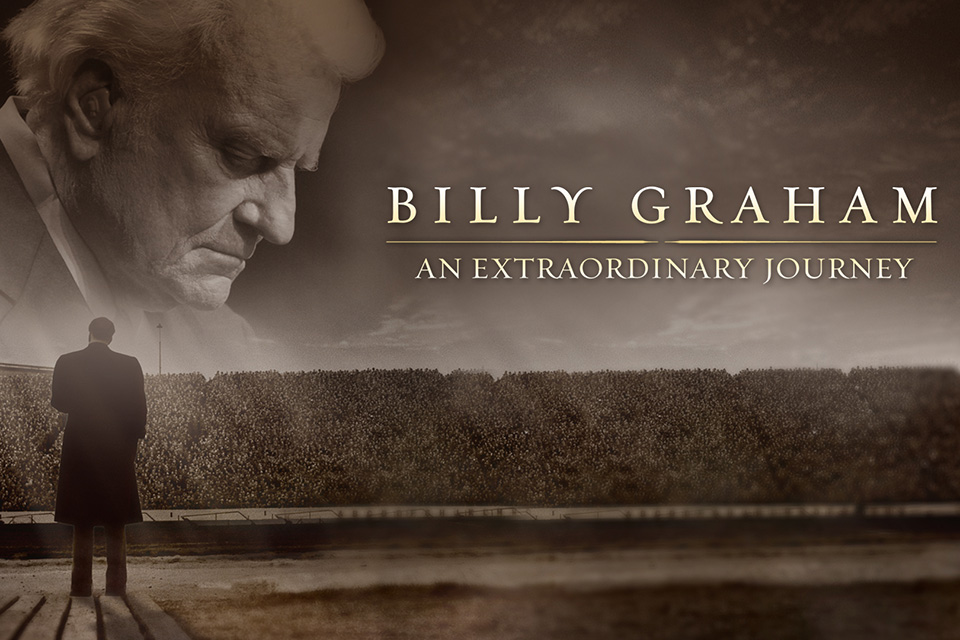 CHARLOTTE, N.C., Oct. 22, 2018—Billy Graham: An Extraordinary Journey—a film commemorating the life and impact of world-renowned evangelist Billy Graham—will come to DVD and digital HD beginning Nov. 6.
"It's an extraordinary journey," said Franklin Graham, president and CEO of the Billy Graham Evangelistic Association. "How God took a young boy off a farm in rural North Carolina in the South and then from there to the ends of the earth. God used one man to touch the world like it's never been touched before—Billy Graham was just part of that journey."
For more than 60 years, Billy Graham preached the Gospel around the world to 215 million people who attended one of his more than 400 Crusades, simulcasts and evangelistic rallies in more than 185 countries and territories. Throughout his lifetime, he served as a trusted spiritual advisor to many U.S. presidents and world leaders, and impacted the lives of many public figures.
The 72-minute film offers a unique look into the life of the minister, who passed away in February 2018. The documentary details Graham's journey as a dairy farmer's son who rose to prominence, becoming one of the most important religious leaders in modern history.
It showcases his work during the civil rights movement in the United States, behind the Iron Curtain in Eastern Europe, and through many pivotal moments in world history. It also features interviews with prominent broadcasters and personalities, including Tom Brokaw, Larry King, Charles Gibson, Kathie Lee Gifford and Brit Hume.
The DVD contains hours of bonus footage and features, including Billy Graham's funeral.
Billy Graham: An Extraordinary Journey is available on DVD and digital HD at major retailers beginning Nov. 6. Visit BillyGrahamFilm.com to order your copy today.
About Billy Graham Evangelistic Association:
From its headquarters in Charlotte, N.C., the Billy Graham Evangelistic Association is a nonprofit organization that directs a wide range of domestic and international ministries, including: large-scale festivals led by evangelists Franklin Graham and Will Graham; The Billy Graham Library; The Billy Graham Training Center at The Cove, located outside of Asheville, N.C.; SearchforJesus.net, an Internet evangelism project reaching thousands of people for Christ online; and many others through print, television, telephone, radio and the Internet. For more information, please visit BillyGraham.org. Get news updates on Twitter at Twitter.com/BGEAnews.
Media Information:
An online press kit with downloadable graphics, photos and video b-roll is available at: http://bit.ly/ExtraordinaryJourney_media-materials
Screener available upon request.
Media Contact:
Lisa Moseley
(704) 401-2116
lmoseley@bgea.org