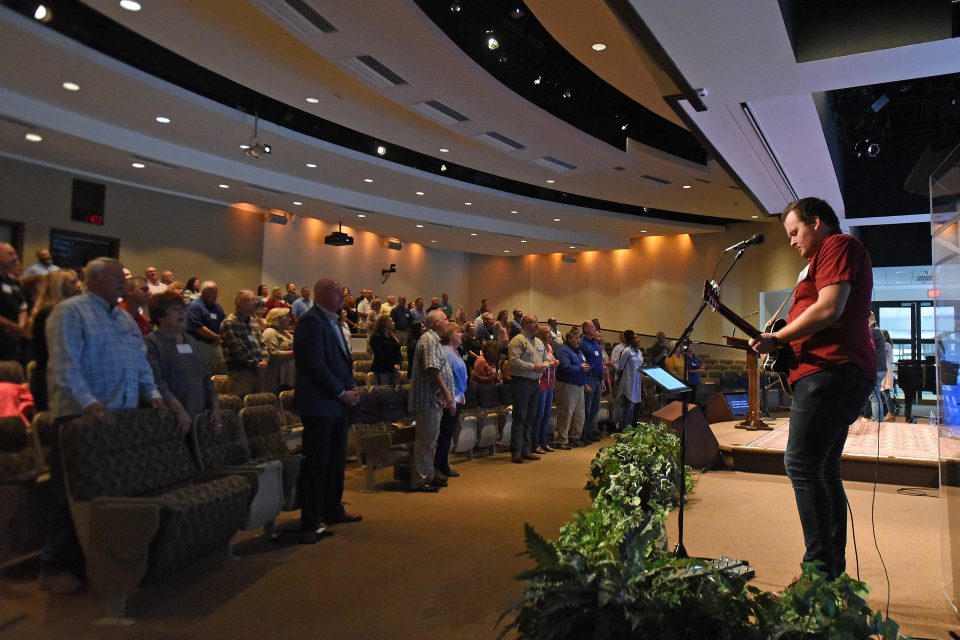 ASHEVILLE, N.C., Oct. 10, 2019 – The Billy Graham Rapid Response Team (RRT) hosted the inaugural Chief Law Enforcement Officer Retreat Sept. 29 – Oct. 1, at the Billy Graham Training Center at The Cove. More than 120 police chiefs, sheriffs, and spouses attended the event, hearing from other battle-tested law enforcement leaders in a relaxing environment among their peers.
"The purpose of the Chief Law Enforcement event is really to give a safe place for chiefs and sheriffs from across this country to come where it is about them. It isn't about their departments or their officers, but it's an opportunity for them to come and get ministered to, which is often overlooked in this profession," said Chad Stillman, former law enforcement officer and manager of law enforcement relations for the RRT. "They came to hear from chiefs and hear from law enforcement-specific speakers who can relate to them on a law enforcement level but also share the hope and love of Jesus."
Speaker after speaker opened up to the group about the trials they had faced during their careers; from deaths in the department, to marital problems, to suicidal thoughts. They also spoke of the love and comfort of Christ and how important their relationship with God was in their chosen profession.
"The attributes of a good Christian—to be compassionate and respectful of people—are the same skills you need to be a good police executive," said Springboro Police Chief Jeff Kruithoff. "It's really been important to be able to have an audience of just chiefs and sheriffs and spread the fact that you are never alone going through this journey of trials and tribulations. Christ is always right there next to you."
The retreat was not only geared toward ministering to police chiefs and sheriffs, but also the numerous spouses who were in attendance.
"This is also a time for the families—the husbands and wives—to reconnect and rededicate their lives to one another," said Harold Medlock, retired police chief in Fayetteville. "[That relationship] is critically important. Their spouses are partners with them throughout their whole career. The things that the chief executive sees and hears and experiences every day, the spouse sees and hears and experiences when he or she comes home in the evening. It's a career for a person, but law enforcement truly is—especially in the leadership position—a career for the family."
The RRT will be back at The Cove for the National Law Enforcement Retreat Oct. 21-23. Limited spots are still available at the retreat that is open to all law enforcement.
For more information on the ministry, including videos, photos, news articles and an interactive map of former and current deployments, visit BillyGraham.org/RRT. Updates can also be found at Facebook.com/RRTChaplains.
About the Billy Graham Rapid Response Team:
The Billy Graham Rapid Response Team was developed by Franklin Graham and the Billy Graham Evangelistic Association following the attacks of Sept. 11, 2001. It has since grown into an international network of chaplains in the U.S., U.K., Canada and Australia who are specifically trained to deal with crisis situations. They have deployed to more than 400 disaster sites across the globe, including shootings, floods, hurricanes, wildfires and tornadoes.
– 30 –