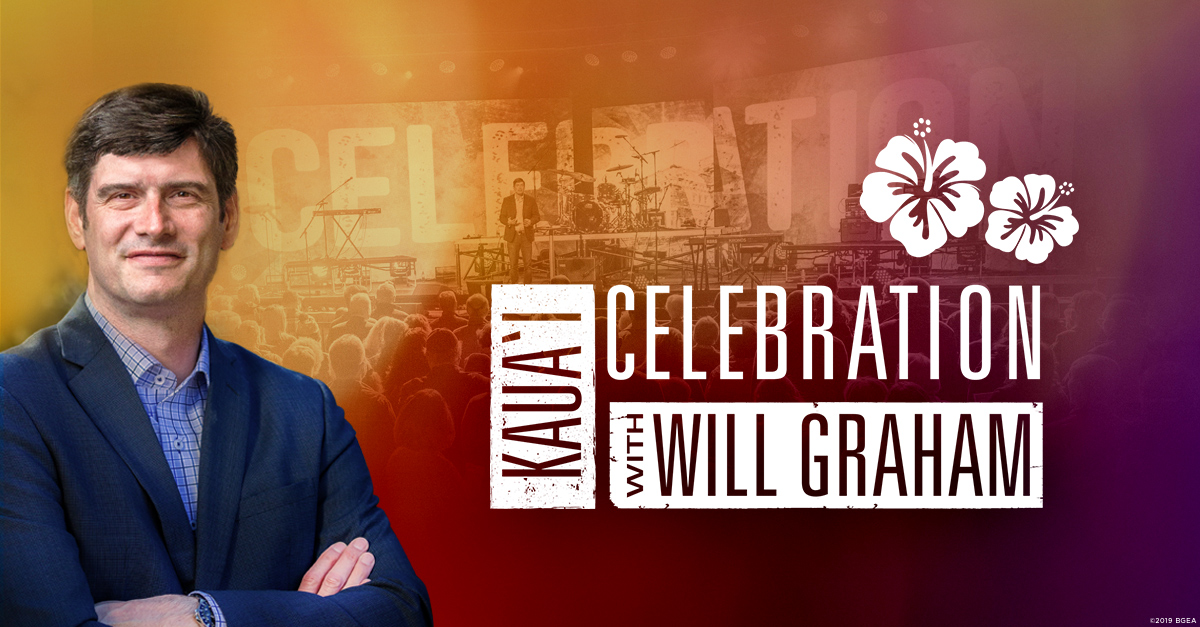 Free concerts, special events for teens and children, part of weekend-long outreach

KAUA`I, Hawaii, April 18, 2019 – The Kaua`i Celebration with Will Graham, coming to Vidinha Stadium, May 3-5, 2019, will feature a weekend full of free concerts by some of the top artists and up-and-coming performers in Christian music.
A regular at Will Graham Celebrations, Aaron Shust will lead worship during each evening program. Aaron has received the Dove Award's New Artist of the Year, Songwriter of the Year, and Song of the Year (for "My Savior, My God") commendations.
On Friday, Aaron will be joined by rock band The Afters, who have won Dove Awards for New Artist of the Year and Rock/Contemporary Album of the Year. They've been a consistent and popular presence on the Christian music scene for more than a decade, garnering multiple top five hits on the Billboard Praise & Worship charts. The Afters' current single, "Well Done," remains situated in the top 20 on Billboard's Hot Christian Songs and Christian Airplay charts. Their songs have been featured on several primetime television shows, including "Grey's Anatomy" and "The Biggest Loser."
On Saturday evening, the focus will be on teens as hip hop star Tedashii and fast-rising R&B newcomer Cass take the stage.
A Texas native with Samoan roots, Tedashii is recognized as one of the top Christian hip hop artists in the country. He has released five solo albums with Reach Records: "Kingdom People," "Identity Crisis," "Blacklight," "Below Paradise," and his latest effort "Never Fold" (March 2019).
New Zealand-based artist Cassandra "Cass" Kanda is a singer/producer who released her first album "Genesis" in early 2017, receiving critical acclaim and award nominations in the industry. Her sophomore album, titled "Not For Sale," was released in early October 2018. The two albums have generated over 9 million streams across 65 countries on Spotify.
All four artists – Aaron Shust, The Afters, Tedashii and Cass – will take part in Sunday's closing service.
A special event for children and families will take place the morning of Saturday, May 4. The fun begins at Vidinha Stadium at 9 a.m. with inflatables, a petting zoo, games, snacks and face-painting. At 10:30 a.m., KidzFest will begin inside the stadium. The program will include a live play called "The Greatest Journey," featuring local actors and a KidzChoir made up of local children, and a brief message from Will Graham.
About the Kaua`i Celebration with Will Graham:
The Kaua`i Celebration with Will Graham is a free, family-friendly event coming to Vidinha Stadium, May 3-5, 2019. In addition to live music from nationally-known Christian bands, the Celebration will feature inspirational messages from evangelist Will Graham, who is the grandson of the late evangelist Billy Graham and the son of Franklin Graham. Volunteers from 64 churches representing 14 denominations across the island are working together to host the Celebration. For more information, visit www.KauaiCelebration.org.
Media Contact:
Erik Ogren
(704) 401-2117
eogren@bgea.org