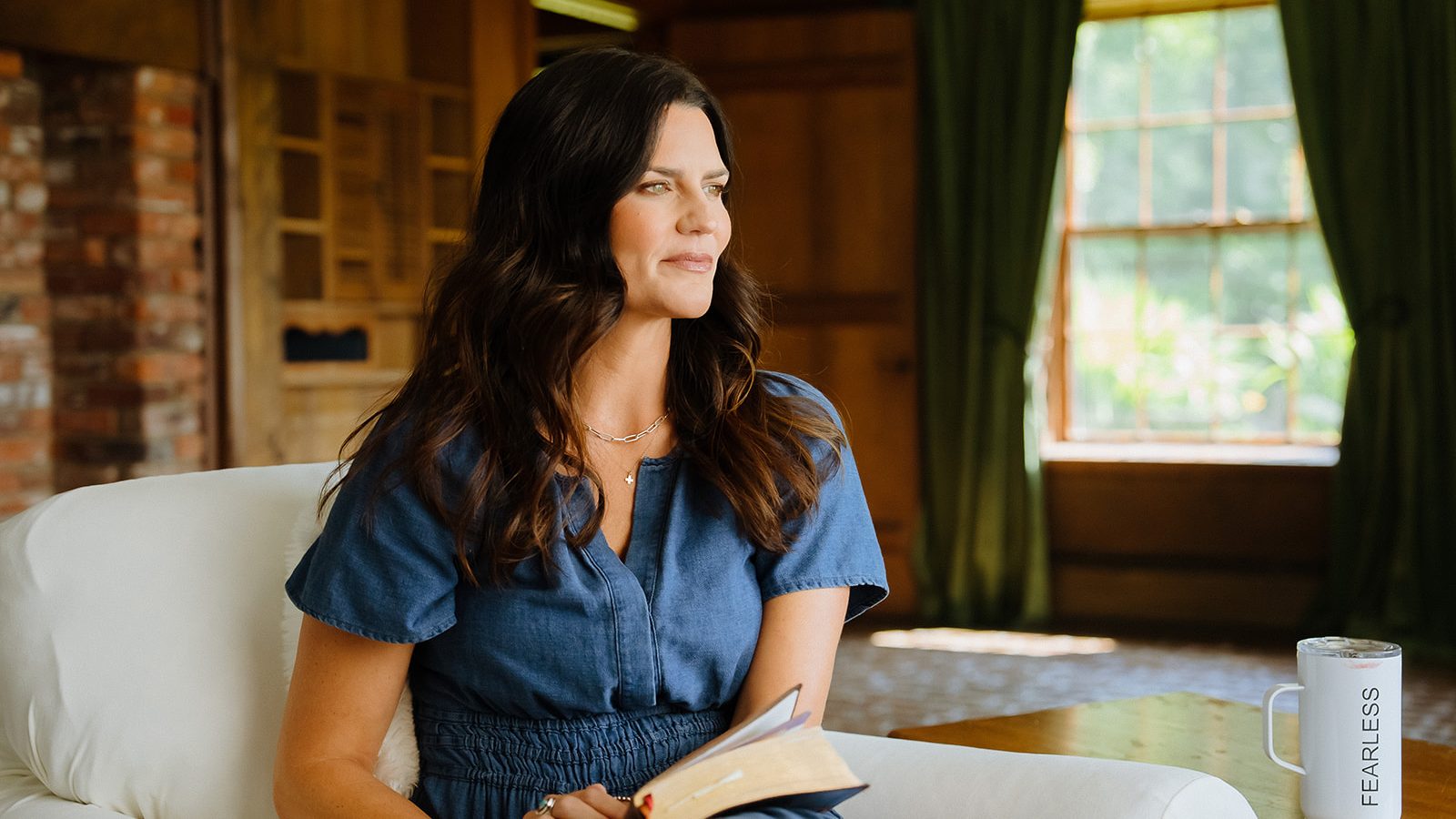 CHARLOTTE, N.C., June 27, 2023 – Today, Fearless with Cissie Graham Lynch releases a milestone 100th podcast episode. The special installation was recorded at the North Carolina mountain home of host Cissie Graham Lynch's grandparents, Billy and Ruth Graham. Their home, which was also where her father, Franklin Graham, was raised, holds special memories for Lynch that she shares in the episode.
In the landmark program, Lynch recalls the uncertainty that her family faced last fall as Hurricane Ian approached their Fort Myers home, yet describes how her faith was not shaken because of the strong spiritual foundation that her family instilled in her from a young age.
"Every strong home starts with a strong foundation. And in this home, that foundation was the love of God's Word." Reflecting back on memories of her grandparents, Lynch continues "When I come to this house, every time I think of the goodness of God and how 'all my life He has been faithful' throughout, just like the song that many of us have had on repeat. But we can look back and see His hand through it all."
The Fearless with Cissie Graham Lynch podcast is produced by the Billy Graham Evangelistic Association and has now amassed more than 1.2 million downloads. Fearless has covered a wide range of topics since the podcast began in 2019, all focused on equipping Christians to live out a fearless faith in the midst of today's compromising culture.
Some of the popular installments include the most recent on Pride Month, and earlier episodes discussing the importance of Israel and the U.S. Supreme Court overturning Roe v. Wade. Her latest series, The Elephant in the Room, covered topics affecting Christians—which many churches are ignoring or not discussing—such as if Christians should be involved in politics, racial reconciliation, cohabitation outside of marriage, and seeking therapy vs. godly counsel.
Through Fearless, Lynch also aims to encourage parents and grandparents with lessons she learned from her own family, and shares how she is using those lessons to raise her three young children up with the same Gospel truths that have been passed down by the Grahams for several generations.
Fearless is available for streaming and download through the Billy Graham app, as well as through Apple Podcasts, Spotify, Google Podcasts and other podcast aggregators, and can be streamed directly at cissiegrahamlynch.com.
The Fearless podcast is one of several audio offerings from the Billy Graham Evangelistic Association, including GPS: God. People. Stories., Billy Graham Minute, and The Billy Graham Channel on SiriusXM, as well as the Billy Graham Audio Archives of more than 1,500 sermons, messages, and comments from Billy Graham spanning seven decades. Listeners can also follow facebook.com/BillyGrahamRadio for regular updates and programs.
About Cissie Graham Lynch
Since 2010, Cissie Graham Lynch has worked as part of the Billy Graham Evangelistic Association and Samaritan's Purse in various capacities. As executive producer and host Fearless with Cissie Graham Lynch, Cissie encourages people to speak boldly on issues including life, family, and faith. Cissie and her husband Corey, live in Southwest Florida, with their three children. Follow Cissie on social media at facebook.com/CissieGrahamLynch, instagram.com/cissiegrahamlynch, twitter.com/cissieglynch, and youtube.com/@cissiegrahamlynch.
About the Billy Graham Evangelistic Association
From its headquarters in Charlotte, North Carolina, the Billy Graham Evangelistic Association directs a wide range of domestic and international ministries, including: large-scale outreaches led by evangelists Franklin Graham and Will Graham; the Billy Graham Library; The Billy Graham Training Center at The Cove, located outside of Asheville, North Carolina; SearchforJesus.net, an internet evangelism project reaching thousands of people for Christ online; and many others through print, television, telephone, radio and the internet. For more information, please visit billygraham.org. Get news updates on Twitter at twitter.com/BGEAnews.
-30-
Media Contact:
Lisa Moseley
(704) 401-2116
lmoseley@bgea.org